CONCENTRATING TABLES, SHAKING TABLES
GRAVITY CONCENTRATING TABLES, WET CONCENTRATING TABLES, SHAKER TABLE FOR GOLD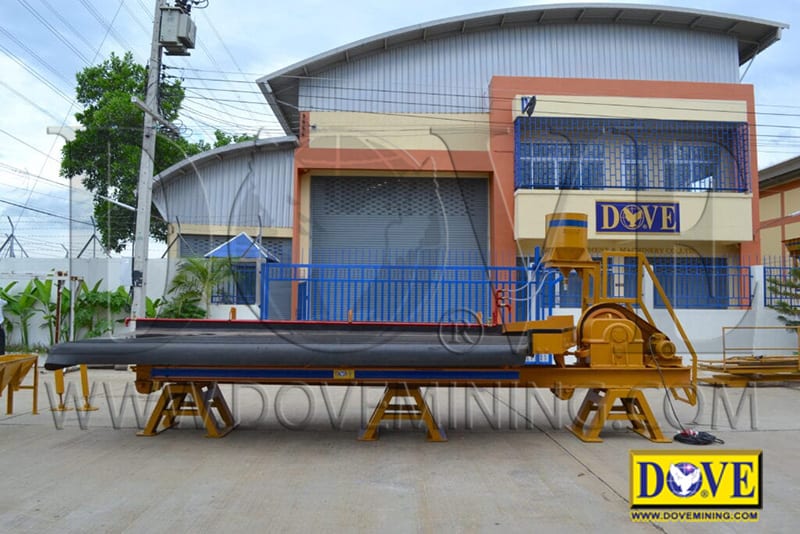 Convenience of Installation
DOVE designs its Concentrating Tables (Shaking Tables) for both right and left hand feed operations. Due to space saving consideration, DOVE supplies multiple-deck table configurations. Multiple-deck consisting of two or three deck levels affect space saving proportionate to the number of decks employed.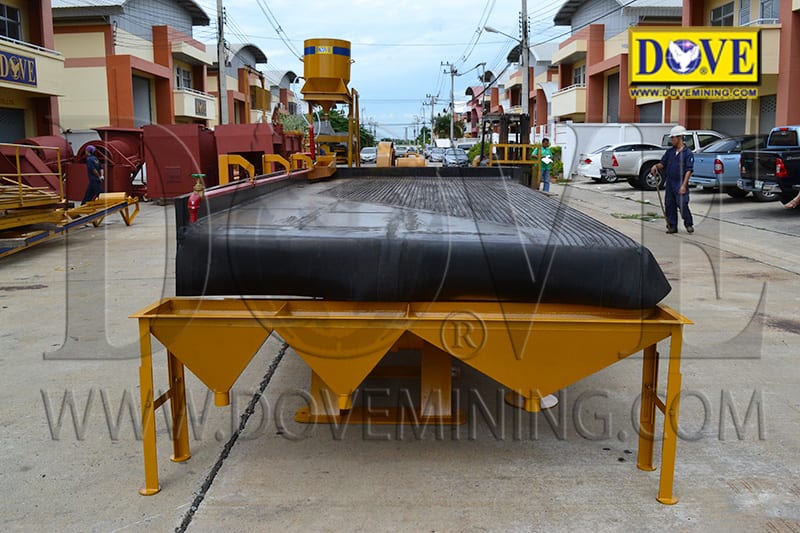 Excellent Deck Design
DOVE Concentrating Tables (Shaking Tables) are fabricated with only high quality material and workmanship. Operating decks are made of special marine teak wood and covered with ultra-smooth one-piece rubber with series of rubber riffles on its surface.
DOVE employs various deck types and riffle patterns. DOVE Concentrating Tables are available in rectangular or diagonal deck types with sand riffling, slime riffling, or individual riffle patterns, depending on the individual separation requirements.
SHAKING TABLE APPLICATION & WORKING PRINCIPLE
Concentrating Tables (Shaking Tables) are designed for separation of two or more materials of different specific gravities.
Concentrating Tables  (Shaking Tables) are effectively used for processing Gold, Silver, Lead, Zinc, Aluminium, Coal, Barite, Beach Sands, Chromite, Glass Sand, Garnet, Iron, Manganese, Mica, Phosphate, Potash, Tantalum, Tin, Tungsten, Titanium, Zircon and etc.
Applicable for alluvial ores, crushed slags or other mixtures of light and heavy materials.
Concentrating Tables (Shaking tables) are comprised of wooden decks, rectangular or diagonal shape, with ultra-smooth rubber cover and riffle surface and are operating in horizontal plane, where material with higher specific gravity is separated from material with lower specific gravity.
Head Motion imparts a reciprocating movement to the table's deck in a horizontal plane. As the material moves across the table, the shaking action of the deck causes size classification and specific gravity stratification.
The flow of cross water causes shearing of stratified material and forces it to cascade over the rifle surface of the table's deck. Lower specific gravity material remains close to the water surface and rides over the riffles towards discharge end of the table; higher specific gravity material is being hold back by the riffles, which is closest to the table's surface, and moving along the table's deck to the concentrate discharge.
DOVE Shaker Table for Gold
Marine Wood Deck Design: operating decks are made of finest grade of marine teak wood, waterproof and resistant to warping.
Ultra-smooth Rubber Deck Cover
Various Riffle Patterns
Extremely Rugged Head Motion: totally enclosed, self-oiling and splash-proof.
Rigid Undercarriage Construction: guarantees the smoothness of deck action.
Adjustable Operating Angle
Rectangular or Diagonal Deck Design
Right or Left Hand Feed Design
Multiple-deck Design
Internal Hydraulic System
Feed Control System
CONCENTRATING TABLES TECHNICAL SPECIFICATIONS
CONTACT NOW FOR BROCHURE & QUOTATION