GOLD MINING EQUIPMENT, DIAMOND MINING EQUIPMENT, TIN AND OTHER MINERALS MINING EQUIPMENT

DOVE is a leading manufacturer of gold mining equipment, diamond mining equipment and complete range of mining and minerals processing equipment for other metals and minerals.
DOVE manufactures the largest range of mining equipment worldwide, producing a complete range of mineral processing plants, Gold mining equipment, Gold Trommel, Trommel wash plant, Diamond mining equipment, Diamond wash plants, Gold wash plants, Portable Gold plants, Portable wash plants, Alluvial mining equipment, dry plants, Hard Rock plants, Jaw Crushers, Ball Mill, beneficiation and Alluvial wash plant, alluvial gold plants, portable diamond plants, mobile plants, semi-stationary plants, Gold Dredge, Dredging plant, Diamond dredge, Shaking table, Gold Concentrator, floating plants and river mining plants.
DOVE manufactures processing plants with capacity range  of  3 Tons/Hour up to 2000 Tons/Hour, for gold mining , diamond mining, gemstone mining, cassiterite (tin) mining, copper mining, iron ore mining, manganese mining, nickel, lead and zinc mining, cobalt mining, tantalite mining, columbite, wolframite, ilmenite, zircon including other industrial metals and minerals, as well as mining aggregates.
All DOVE  mining  equipment can be customized according to the ore characteristic and specification as an efficient tailor made solution for your mining project.
All DOVE mining equipment carry a 2 years (24 months) standard Manufacturer Warranty, which can be extended to 5 years, in addition to lifetime spare parts supply service. We provide full range of Technical services, including Plant engineering design, mining site construction design, plant assembly, installation, test run, and training at client site. In addition we maintain a sophisticated Minerals Assay laboratory, to provide complete  soil sample minerals test and analyses.
alluvial (placer)  processing plants /  wash plants
DOVE manufactures full range of alluvial processing plants, wash plants, for Alluvial (Placer) projects. Plants are supplied with different capacities. EXPLORER® Portable Plants (10–60 Tons/Hour) solids, SuperMiner® Portable processing Plants (80-170 Tons/Hour), MegaMiner® Stationary and Semi-Stationary Wash Plants (5-2000 Tons/Hour).
Gravity Separation Plants are designed with high recovery rates. DOVE gold wash plants and diamond wash plants are configured with security system and locking mechanism to prevent theft of production.
DOVE manufactures wash plants, gravity separation plants for placer, alluvial gold mining and alluvial diamond mining, configured for different ore type, laterite, heavy clay, gravel and black sand. Wash plants are designed for highest recovery and minimum operator requirements.
dredging plants & floating plants
DOVE is the leading manufacturer of dredgers for river mining. DOVE dredges do not require divers. DOVE dredge equipment are produced in various capacities. DOVE diamond dredge and gold dredge are designed for highest recovery of gold and diamonds in every river mining projects.
DOVE manufactures a complete range of floating plants, floating wash plants, floating gravity separation plants, all designed to be attached to our dredge plants for processing of minerals on the river. DOVE floating plants are designed for automatic recovery of gold and diamonds, provide highest recovery ratio, down to micron size, for efficient river mining. All floating plants are configured with security system and locking mechanism to prevent theft of production.
hard rock processing plants
DOVE manufactures full range of processing plants for hard rock (Primary deposit) of gold and other metals and minerals mining projects. DOVE supplies hard rock processing plants with capacity range of 5-2000 Tons/Hour. Each processing plant is designed specifically according to the ore characteristics and the mineral composition, and for the highest recovery. DOVE manufactures complete processing plant including crushing, grinding, milling, classification, gravity concentration, recovery, and flotation process, etc.
DOVE designs and manufactures high recovery Beneficiation Plants. Beneficiation plants are composed of different types of machines and separators depending on the metals and minerals composition and characteristics, designed for high economic recovery in a customized configuration that will meet the project's specifications. These plants can include Flotation Machines, Dryers, High Intensity Magnetic Separators, High Tension Separators, etc. They can be used for both hard rock (primary) and alluvial (secondary) deposits.
DOVE supplies the state of art in Gold Refinery technology, which is designed to produce and refine raw gold production to international standard purity of 999.95. DOVE refining units are supplied in capacity ranges of 6 kg up to 150 kg. The units are based on advanced Aqua Regia process and it is designed to refine gold, silver, copper. The refining units are configured with the latest technology to comply with the highest environmental standards, which includes neutralization towers for fumes, etc.
Every mining operation requires sophisticated gold room in order to ensure the highest recovery of gold production. To this end DOVE supplies and manufactures a complete range of equipment, instruments, tools and accessories, which includes Gold Concentrating Table, Gold Centrifugal Concentrator, melting furnace, crucibles, ingot molds, scales, and  assay instruments.
mineral assay laboratory  instruments
DOVE supplies a full range of Laboratory Instruments, Equipment and accessories for minerals assay testing.
DOVE supplies Flame Atomic Absorption Spectrometer (AAS) for Fire Assay Analysis, Portable Mineral Analyzer and Professional Lab Mineral Analyzer for XRF Test, and equipment for Gravity Separation Test such as Lab Jig Concentrator and Lab Concentrating Tables. Several other types of equipment including Lab Induced Roll Lift Magnetic Separator, Lab Isodynamic Magnetic Separator, Lab High Tension Separator, Sampling Pulverizer, Sieve & Shakers, Bench Drill Machine and High Voltage Rectifier are part of the range of DOVE laboratory equipment.
DOVE Laboratory Equipment
DOVEsupplies advanced and highly accurate range of Metal Detectors. It is designed for ease of operation in highly mineralized soil condition. It provides a practical solution during exploration and prospecting different terrain with ease and dependability. DOVE Metal Detectors are designed for various depths and conditions.
metals and minerals assay testing services
DOVE maintains the most sophisticated and advanced laboratory facilities in Asia to provide mineral assay services.
DOVE provides a complete range of minerals assay testing services, for both alluvial (placer) and hard rock (primary) deposits. DOVE mineral assay services include Gravity Separation, Fire Assay Analysis and XRF Analysis for identification of gold, platinum, other metals and minerals concentration and simultaneously analyze up to 32 other elements, metals and minerals.
"Reliable assay and minerals testing of your mine samples can lead you to the most efficient and best equipment configuration and plant design for the highest recovery of production and return of investment".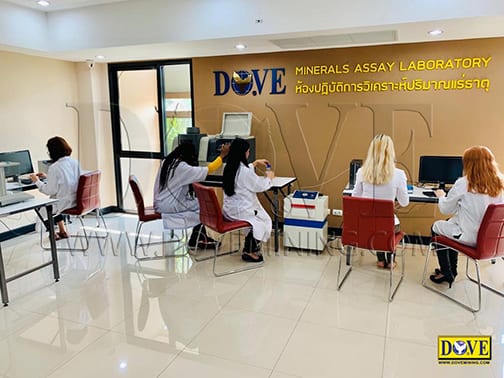 DOVE Mineral Laboratory Room