Models

Diameter

(mm)

Feed Size (mm)

Capacity (TPH)

Adjustment Range (mm)

Rotating Speed (RPM)

Power (Kw)

Weight (tons)

Dimension Size (mm)

CCB-600

600

75

20-40
12-15
356
8P-30
5
2234 X 1370 X1675

CCD-600

35
12-23
3-13
5.5

CCB-900

900
115
50-90
15-50
333
8P-55
11.2
2692 X 1640 X 2350

CCZ-900

60
20-60
5-20

CCD-900

50
15-65
3-13

CCB-1200

1200
145
110-168
20-50
300
8P-110
25
2790 X 1878 X2844

CCZ-1200

100

42-135
8-25

CCD-1200

50
18-105
3-15

CCB-1750

1750

215

280-480
25-50
245
8P-160
50
3910 X 2894 X 3809

CCZ-1750

185
115-320
10-30

CCD-1750

85
75-230
5-13

CCB-2200

2200
300
590-1000
30-60
220
8P (260-280)
80
4622 X 3302 X 4470

CCZ-2200

230
200-580
10-30

CCD-2200

100
120-340
5-15
81
Models

Diameter (mm)

Feed Size (mm)

Capacity (TPH)

Adjustment Range (mm)

Minimum Discharge Mouth Opening Size (mm)

Power (Kw)

Weight (tons)

Dimension Size (mm)

COC-0910

900

85

45-90
9-22
102
75
9.9
2656 X 1636 X 2241

COC-0917

900
150
118-163
13-38
175
75
2656 X 1636 X 2241

COC-0904

900
35
27-90
3-13
41
75
10.5
2656 X 1636 X 2241

COC-0906

900
65
27-100
3-16
76
75
2656 X 1636 X 2241

COC-0907

900
85
59-129
6-9
102
75
2656 X 1636 X 2241

COC-1313

1300
115
109-180
13-31
137
160
22.4
2983 X 1866 X 3156

COC-1321

178
132-253
16-38
210
160
22.4
2983 X 1866 X 3156

COC-1324

205
172-349
19-51
241
160
22.4
2983 X 1866 X 3156

COC-1325

220
236-358
25-51
259
160
22.4
2983 X 1866 X 3156

COC-1306

54
36-163
3-16
64
160
22.6
2983 X 1866 X 3156

COC-1308

76
82-163
6-16
89
160
22.6
2983 X 1866 X 3156

COC-1310

89
109-227
8-25
105
160
22.6
2983 X 1866 X 3156

COC-1314

113
209-236
16-25
133
160
22.6
2983 X 1866 X 3156

COC-1620

1600
178
181-327
16-38
209
220
43.2
3941 X 2954 X 3771

COC-1624

1600
205
258-417
22-51
241
220
43.2
3941 X 2954 X 3771

COC-1626

1600
228
299-635
25-64
269
220
43.2
3941 X 2954 X 3771

COC-1636

1600
313
431-630
38-64
368
220
43.2
3941 X 2954 X 3771

COC-1607

1600
60
90-209
5-13
70
220
43.8
3941 X 2954 X 3771

COC-1608

1600
76
136-281
6-19
89
220
43.8
3941 X 2954 X 3771

COC-1613

1600
113
190-336
10-29
133
220
43.8
3941 X 2954 X 3771

COC-1614

1600
113
253-336
13-25
133
220
43.8
3941 X 2954 X 3771
Capacities are based on continuous regulated feed of clean, dry limestone of normal hardness with a bulk density of 16 ton/m3.
Capacity may vary with the size and nature of the rock and the working conditions of the plant.
DOVE reserves the right to modify the specifications at anytime, without prior notice.
WARRANTY:
All DOVE equipment carry a standard Manufacturer's Warranty, which can be extended to 5 years, in addition to lifetime spare parts supply service.
DOVE provides full technical services worldwide, including plant engineering design, mining site construction design, site assembly, installation, test run and training.
MANUFACTURING FACILITIES:
DOVE Equipment & Machinery manufacturing facilities are located about 30 minutes drive from the company Head office in Bangkok, which includes 8 factories and showroom.
DOVE Equipment and Machinery with over 50 years manufacturing expertise, and the largest range of mining and minerals processing technologies is the recipient of ISO 9001: 2015, Green Industry Certification, and Golden Eagle of Asia Awards 2020 Best Business of the Year (DOVE Equipment and Machinery and DOVE Instruments), which insures highest quality and standard of our manufacturing and customer service practices.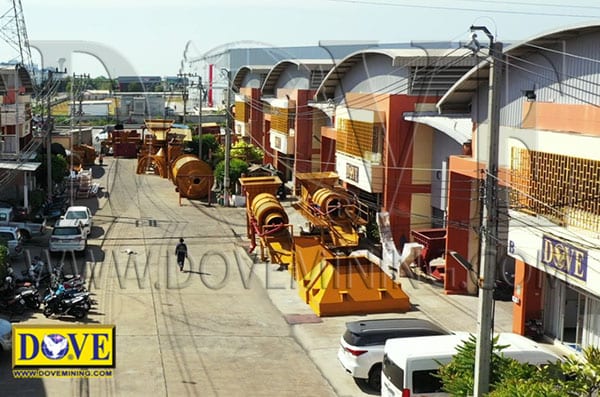 DOVE Manufacturing Facilities.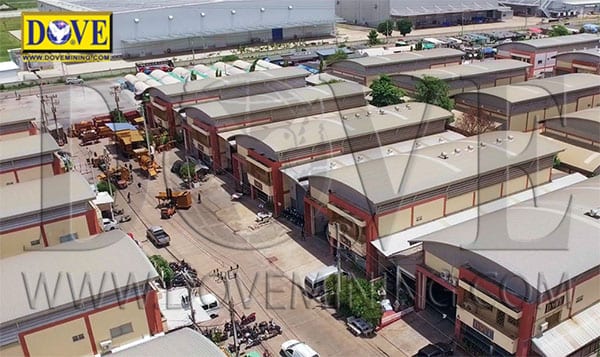 DOVE Equipment and Machinery 8 Factories.
Video DOVE Manufacturing Facilities:
MINERAL TEST SERVICES:
DOVE laboratory will assay your ore samples rapidly and analyze your raw materials and recommend the most efficient processing plant according to the ore specifications, minerals composition, and ore assay results, and your project size and the geologic and topographic conditions of your mine.
Please,  CONTACT US  for your sample analysis and quotation.
WE HIGHLY RECOMMEND FORWARDING SOIL SAMPLES OF YOUR MINE TO US FOR ANALYSIS, IN ORDER TO DESIGN AND RECOMMEND THE MOST EFFICIENT PROCESSING PLANT, TAILOR MAID TO YOUR MINE REQUIREMENTS, FOR HIGHEST PRODUCTION RECOVERY.