MOBILE HARD ROCK GOLD MINING EQUIPMENT
MOBILE CRUSHING PLANT, HARD ROCK MINING EQUIPMENT
DOVE is a major manufacturer of Mobile, Portable and Stationary Hard rock Gold mining equipment, designed for highest recovery of Gold, Platinum, Silver, Manganese, Zinc, Nickel, Tin, Lead, Zircon and other metals contained in hard rock deposits (Primary deposits) and quartz rocks.
SPEEDMINER® Mobile Hard Rock Plants are fully integrated plants, designed and manufactured by DOVE with exceptional features.
FEATURES (MOBILE HARD ROCK GOLD MINING EQUIPMENT):
EFFICIENCY: SPEEDMINER® Mobile Fully Integrated Hard Rock plant is designed with advanced technology to ensure 100% recovery of gold and other metals production, with no loss.
PRODUCT RANGE:  SPEEDMINER® Mobile Hard Rock plants are produced in 11 standard models with capacity range 2-80 TPH.
SELF-SUFFICIENT POWER SOURCE:  SPEEDMINER® Mobile Hard Rock plants are supplied with Power Plant Generator and complete electrical network.
MOBILITY: SPEEDMINER® Hard Rock Plants are mounted on rugged trailers and heavy-duty wheel-sets to easily be transported from one location to another in between mining sites. Plants are easily assembled, disassembled, with the ease of installation and operation, resulting in rapid set up.
ECONOMICAL: SPEEDMINER® Plants are easy to operate and are low maintenance. They require no site engineering construction, therefore eliminate additional cost and time required for site preparation, result in great saving.
USER-FRIENDLY: SPEEDMINER® Mobile Plants require only 2 days of training to learn the operation and maintenance of the plants with no prior expertise.
ENVIRONMENT-FRIENDLY: SPEEDMINER® Mobile Hard Rock mining equipment use no chemicals (no mercury, no cyanide), use only recycled water, 100% environment-friendly.
RUGGED DESIGN: SPEEDMINER® Plants are designed with premium quality materials to deliver high performance and are built to last.
WIDE RANGE:
SPEEDMINER® Processing Plants are designed and engineered with expertise, for complete size reduction of the rocks, and efficient processing and recovery of the liberated metals and minerals production contained in a hard rock deposit.
DOVE offers the most extensive and complete line of Mobile Hard Rock Processing Plants, each plant is customized with the ability to handle various ore and minerals content.
SPEEDMINER® MOBILE HARD ROCK PLANTS
MODELS
PRODUCT DESCRIPTION
CAPACITY (SOLIDS)
METRIC TONNES/HOUR
CUBIC METERS / HOUR
CUBIC YARDS/HOUR
SMH-2G
SPEEDMINER® Mobile Hard Rock Processing Plant
2.0
1.3
1.7
SMH-5G
5.0
3.3
4.31
SMH-10G
10.0
6.66
8.71
SMH-15G
15.0
10.0
13.07
SMH-20G
20.0
13.33
17.43
SMH-25G
25.0
16.66
21.79
SMH-30G
30.0
20.0
26.15
SMH-40G
40.0
26.7
34.92
SMH-50G
50.0
33.33
43.59
SMH-60G
60.0
40.0
52.32
SMH-80G
80.0
53.33
69.75
* DOVE reserves the right to modify the specifications at anytime, without prior notice.
WARRANTY:
All DOVE equipment carry a standard Manufacturer's Warranty, which can be extended to 5 years, in addition to lifetime spare parts supply service.
DOVE provides full technical services worldwide, including plant engineering design, mining site construction design, site assembly, installation, test run and training.
MANUFACTURING FACILITIES:
DOVE Equipment & Machinery manufacturing facilities are located about 30 minutes drive from the company Head office in Bangkok, which includes 8 factories and showroom.
DOVE Equipment and Machinery with over 50 years manufacturing expertise, and the largest range of mining and minerals processing technologies is the recipient of ISO 9001: 2015, Green Industry Certification, and Golden Eagle of Asia Awards 2020 Best Business of the Year (DOVE Equipment and Machinery and DOVE Instruments), which insures highest quality and standard of our manufacturing and customer service practices.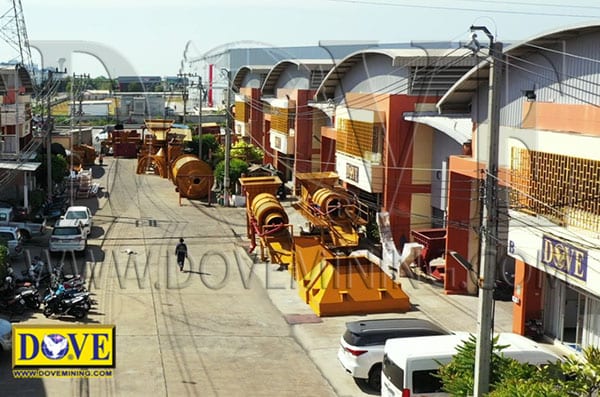 DOVE Manufacturing Facilities.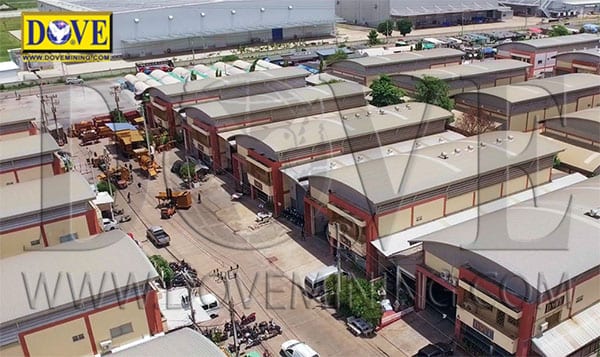 DOVE Equipment and Machinery 8 Factories.
Video DOVE Manufacturing Facilities:
MINERAL TEST SERVICES:
DOVE laboratory will assay your ore samples rapidly and analyze your raw materials and recommend the most efficient processing plant according to the ore specifications, minerals composition, and ore assay results, and your project size and the geologic and topographic conditions of your mine.
Please,  CONTACT US  for your sample analysis and quotation.
DOVE MOBILE HARD ROCK PLANT RECOVERY PROCESS:
DOVE Mobile Hard Rock Plants are engineered for complete communition of the material through multiple stages of crushing and grinding cycles, and efficient processing and recover of the liberated metals and minerals through an effective and advanced separation and concentration circuit.
DOVE Mobile Hard Rock Plants are designed for the highest recovery in the industry of the liberated particles of gold, platinum, light metals, base metals, ferrous metals, sand, gravel, and coal, down to micron.
DOVE Mobile Hard Rock Plants' exceptional portability, productivity, efficiency and quality deliver results that are unparalleled mining industry.
DOVE Mobile Hard Rock Plants and recovery methods vary depending on several factors, including the size of the rock, the rock's condition, the hardness of the materials, minerals composition in the ore, specific gravity and other characteristics and specification of the elements to insure the efficient recovery of 100% of the minerals Production, with no loss.
Hard rock mining is the process of extracting metals and minerals encased in rocks (primary deposit). Hard rock ore can contain metals, minerals such as gold, platinum, silver, iron, copper, manganese, zinc, nickel, tin and lead, zircon, etc.
The major components of DOVE Mobile hard rock processing Plants consists of the following:
1. FEED HOPPER
The feed hopper described as a large bin above the crusher into which the ore is dumped prior to being discharge into the primary crusher. In Certain cases the feed hopper will be configured with static or vibrating grizzly.
2. VIBRATING FEEDER / VIBRATING GRIZZLY
A feeder at the bottom of the hopper helps transfer the ore to the crusher evenly and continuously. It can simultaneously screen materials roughly and increase the practical handling capacity of the whole production line.
3. PRIMARY JAW CRUSHER
The first step of rock reduction process from large particles into small pieces is running them through a DOVE primary Jaw Crusher, a crusher that takes the rocks and crushes it smaller. DOVE Jaw Crushers have two opposing ribbed panels, or jaws, with one jaw moving forward and back to crush raw material against the fixed jaw. Only material that has been crushed to a size equivalent to the opening at the bottom of the jaws falls through the bottom of the machine. This sizing is determined by the closed side setting of the jaw panels. Jaw Crushers exert more crushing power and are the best choice for very hard rock like granite and abrasive rock.
4. SECONDARY CRUSHER
A secondary crusher is one that takes crushed material out of a primary crusher and reduces the product further. DOVE Jaw crusher or DOVE cone crusher depending on the hardness and rock condition can perform as the secondary crusher stage. After materials are crushed into the desired output size, it will go further on the next stage, which is grinding part.
5. BALL MILL
The DOVE ball mill is the key grinding equipment after material is crushed. It is used to grind and blend bulk material into powder form using different sized balls. The working principle is simple, impact and attrition size reduction take place as the ball drops from near the top of the rotating hollow cylindrical shell. The output materials will be feed to the processing and recovery machines.
6. Processing and recovery
Depending on project requirement DOVE incorporate advanced DOVE Vibrating Screen, Concentrators, Magnetic Separators, Shaking Tables,  Rotary Dryers,  and Flotation Process for recovery of minerals with no loss.
DOVE also offers Portable crushers or portable crushing plant, portable cone crushers, portable impact crushers, portable grinders or portable grinding plants.
WE HIGHLY RECOMMEND FORWARDING SOIL SAMPLES OF YOUR MINE TO US FOR ANALYSIS, IN ORDER TO DESIGN AND RECOMMEND THE MOST EFFICIENT PROCESSING PLANT, TAILOR MAID TO YOUR MINE REQUIREMENTS, FOR HIGHEST PRODUCTION RECOVERY.