HIGH INTENSITY DISC MAGNETIC SEPARATORS
DOVE High Intensity Disc Electro Magnetic Separators are the most advance Electro Magnetic disc separators in the industry and are designed for separation of dry granular mixtures of magnetic minerals from non-magnetic, as well as elective separation of one weakly magnetic mineral from another.
Highly efficient and ideal for separation of difficult minerals, where they have small degrees of difference in their magnetic susceptibilities.
•MULTIPLE OUTPUTS:
DOVE High Intensity Disc Magnetic Separators are able to do the separation of up to 6 minerals of different magnetic susceptibilities in one single pass, and produce 100% clean magnetic fractions with high magnetic recovery.
•ADJUSTABLE MAGNETIC INTESITY:
DOVE High Intensity Disc Magnetic Separators is configured with adjustable magnetic intensity mechanism, with intensity varying from 0 to 20,000 gauss, which allows for the extraction of paramagnetic particles.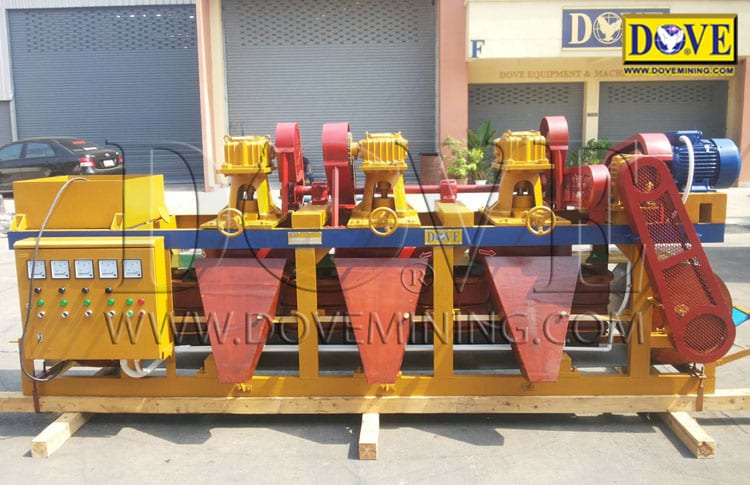 •MAGNETIC CIRCUIT ISOLATION DESIGN:
DOVE High Intensity Disc Magnetic Separators are designed so that magnet circuit is independent of their supporting frame, and are designed to isolate and prevent any flux leakage from the magnet circuit. They are assembled on heavy nonmagnetic brockets.
•FEED ADJUSTMENT:
DOVE High Intensity Disc Magnetic Separators are configured for precise and accurate adjustment of the feed, and their feeder will deliver a thin uniform stream of material to the belt conveyors.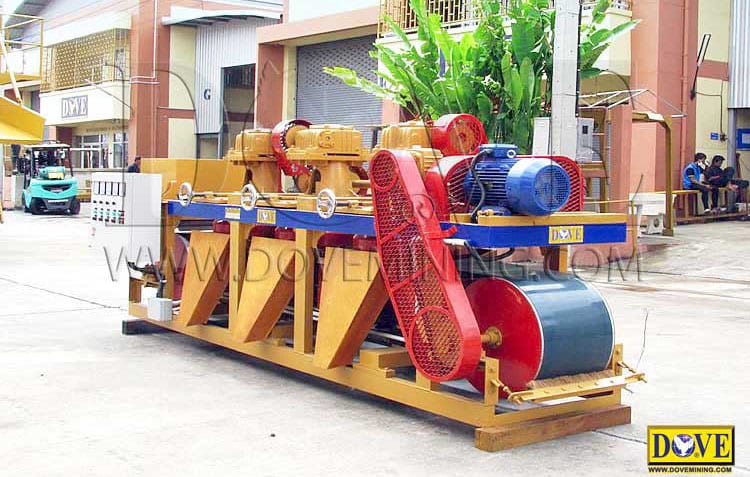 •BELT SPEED ADJUSTMENT:
DOVE High Intensity Disc Magnetic Separators are configured for with feed belt velocity adjustment mechanism to control the material flow.
•ECONOMICAL:
DOVE High Intensity Disc Magnetic Separators are built with the highest quality of material and are designed for economical operations as they produce clean magnetic fractions materials that requires no further treatment.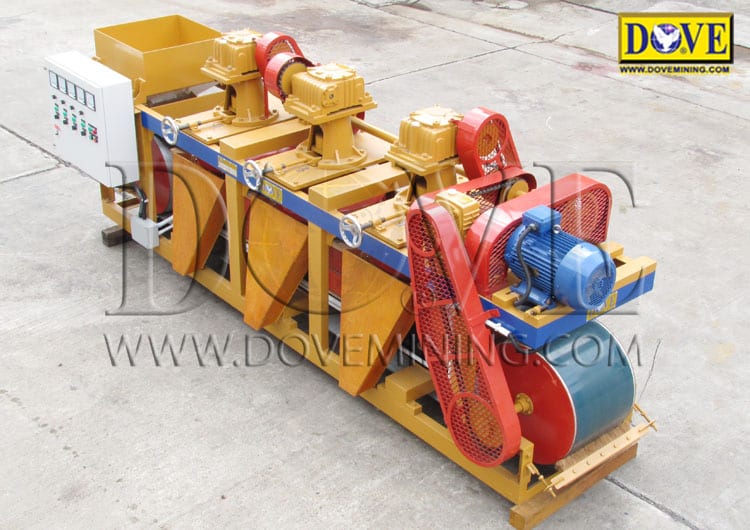 DOVE High Intensity Disc Electro-Magnetic Separators are perfectly suit the following applications:
Concentration of dry granular minerals, such as: ilmenite, garnet, monazite, wolframite, columbite, tantalite, etc.
Removal of minerals of low magnetic susceptibility from cassiterite, zircon, scheelite, rutile, etc.
Removal of feebly magnetic particle from magnetic and nonmagnetic metals.
Purification of quartz for the glass industry.
Purification of abrasives.
Extraction of Iron Oxides from chemical and food products.
Separation of Iron Oxides from feldspar.
Treatment of Garnet and Monazite from zircon.
Garnet / Monazite separation.
Treatment and separation of Ilmenite from Cassiterite.
Tratment and separation of Ilmenite from heavy mineral concentrate.
Treatment and separation of Wolfrimite from scheelite.
Separation of Wolframite – Cassiterite concentrates.
Separation of Columbite – Tantalite concentrates.
MODEL

CAPACITY




MAX. FEED PARTICLE SIZE

PRODUCTS TO SEPARATE

POWER REQUIREMENTS

kg

lb

mm

mesh U.S.

QTY

HP

kW

HMS-D3-500-3

100-500
220-1,102
2
10
3
3
2.25

HMS-D3-800-3

150-800
331-1,764
2
10
3
4.2
3.1

HMS-D3-6

350-550
772-1,213
2
10
6
5.4
4
WARRANTY:
All DOVE equipment carry a standard Manufacturer's Warranty, which can be extended to 5 years, in addition to lifetime spare parts supply service.
DOVE provides full technical services worldwide, including plant engineering design, mining site construction design, site assembly, installation, test run and training.
MANUFACTURING FACILITIES:
DOVE Equipment & Machinery manufacturing facilities are located about 30 minutes drive from the company Head office in Bangkok, which includes 8 factories and showroom.
DOVE Equipment and Machinery with over 50 years manufacturing expertise, and the largest range of mining and minerals processing technologies is the recipient of ISO 9001: 2015, Green Industry Certification, and Golden Eagle of Asia Awards 2020 Best Business of the Year (DOVE Equipment and Machinery and DOVE Instruments), which insures highest quality and standard of our manufacturing and customer service practices.
Video DOVE Manufacturing Facilities:
MINERAL TEST SERVICES:
DOVE laboratory will assay your ore samples rapidly and analyze your raw materials and recommend the most efficient processing plant according to the ore specifications, minerals composition, and ore assay results, and your project size and the geologic and topographic conditions of your mine.
Please,  CONTACT US  for your sample analysis and quotation.
DOVE High Intensity Disc Magnetic Separators, also known as Electro-Magnetic Disc Separators, (3) Three Disc Magnetic Separators, Three Disc Dry Magnetic Separators and Three Disc electromagnetic Separators, is a highly efficient device for separation of difficult minerals with various different degree of difference in their magnetic susceptibilities, to produce very fine selectively achieved clean magnetic fractions with highest recovery.
A Three Disc Magnetic Separator will typically feature three revolving high- intensity electromagnetic discs, each set at a different height from a flat feed belt conveyor that passes between the poles of electromagnets.
The material to be treated is introduced to the main belt in a thin layer on and passes under each of the three revolving discs and the electro magnetic pole pieces, successively. The magnetic particles are attracted to the zones of high magnetic gradient on the undersides of the discs and carried beyond the edges of the belt conveyor where they can't be influences by the magnetic field. The magnetic minerals drop into various product chutes on each side of the conveyor. The clean nonmagnetic minerals pass unaffected under all the poles and are discharged into a product box at the end of the conveyor, where a brush is fitted to ensure that particles do not adhere to the belt.
The magnetic intensity can also be further adjusted by varying the current of each coil to suit each client's specific mineral separation requirements.
WE HIGHLY RECOMMEND FORWARDING SOIL SAMPLES OF YOUR MINE TO US FOR ANALYSIS, IN ORDER TO DESIGN AND RECOMMEND THE MOST EFFICIENT PROCESSING PLANT, TAILOR MAID TO YOUR MINE REQUIREMENTS, FOR HIGHEST PRODUCTION RECOVERY.