DUAL FLOW ROTARY DRYERS
TO DRY HIGH MOISTURE CONTENTS GRANULAR MATERIAL
DOVE Rotary Dryers
are configured for high speed economical drying operations of wet concentrate; minimize dusting, save floor space and yield better end products.
• Full Range Products
Six models of DOVE Dual Flow Rotary Dryers to choose from, with capacity range of 1 TPH up to 10 TPH.
• Low Cost Operation & Service
Lowest ownership cost, economical operation and low maintenance cost.
• Reliable
Full and efficient control of gas, temperature, air exhaust and material logistics, results in major savings.
• Durable
Loss, longer hot gases contact with material, shorter retention time than any dryer in the market.
• High Performance
DOVE Dual Rotary Dryers provive maximum heat transfer for every cubic feet of drying, minimum heat loss.
• Efficiency
Lowest fuel costs and highest possible thermal efficiency in comparison to other direct or indirect dryers.
• METAL & MINING INDUSTRIES
To dry concentrate Tin, Iron, Copper, Mineral sands, Tantalite, Ilmenite, Wolfframite, Columbite, Monazite, Garnet, Zircone, Scheelite, Rutile and other metals concentrates and minerals. Meterials for powder metallurgy (powder), Coal, Cokes, Quicklime, Sulfur, Phosphor (Powder), Fluorescent substance (Powder), Cast dust, Steel shot (granule) minerals,etc.
• CERAMIC & CHEMICAL INDUSTRIES
To dry Silica sand, Beach sand, Ceramic (powder), Glass(Powder), Foundry sand, Quartz powder, Kaolin powder, Synthetic resins (pellet, beads, powder), Wood powder, Graphite (powder), Rubber filter (powder), Silica powder, Phosphate, Fertilizer, Sulfur, Phosphor (powder), Fluorescent substance (powder), etc.
WARRANTY:
All DOVE equipment carry a standard Manufacturer's Warranty, which can be extended to 5 years, in addition to lifetime spare parts supply service.
DOVE provides full technical services worldwide, including plant engineering design, mining site construction design, site assembly, installation, test run and training.
MANUFACTURING FACILITIES:
DOVE Equipment & Machinery manufacturing facilities are located about 30 minutes drive from the company Head office in Bangkok, which includes 8 factories and showroom.
DOVE Equipment and Machinery with over 50 years manufacturing expertise, and the largest range of mining and minerals processing technologies is the recipient of ISO 9001: 2015, Green Industry Certification, and Golden Eagle of Asia Awards 2020 Best Business of the Year (DOVE Equipment and Machinery and DOVE Instruments), which insures highest quality and standard of our manufacturing and customer service practices.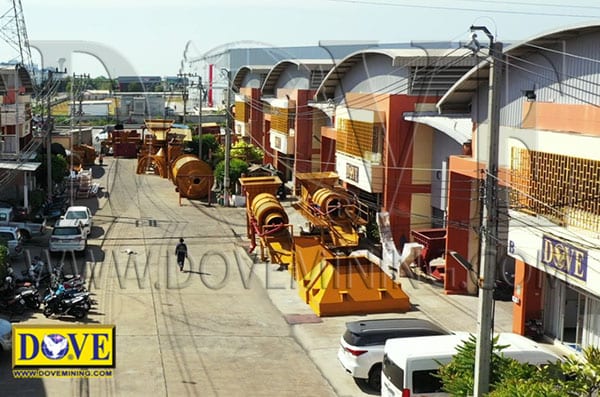 DOVE Manufacturing Facilities.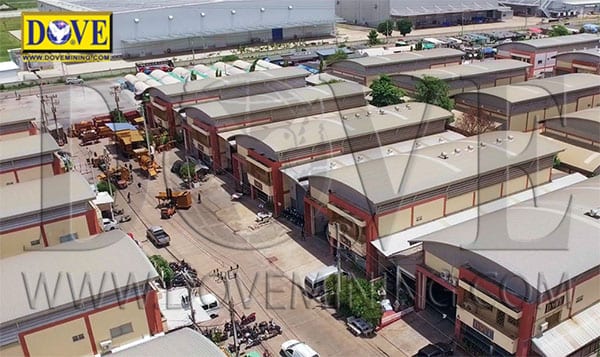 DOVE Equipment and Machinery 8 Factories.
Video DOVE Manufacturing Facilities:
MINERAL TEST SERVICES:
DOVE laboratory will assay your ore samples rapidly and analyze your raw materials and recommend the most efficient processing plant according to the ore specifications, minerals composition, and ore assay results, and your project size and the geologic and topographic conditions of your mine.
Please,  CONTACT US  for your sample analysis and quotation.
WE HIGHLY RECOMMEND FORWARDING SOIL SAMPLES OF YOUR MINE TO US FOR ANALYSIS, IN ORDER TO DESIGN AND RECOMMEND THE MOST EFFICIENT PROCESSING PLANT, TAILOR MAID TO YOUR MINE REQUIREMENTS, FOR HIGHEST PRODUCTION RECOVERY.