JAW CRUSHER
ROCK CRUSHER, STONE CRUSHER, CRUSHER MACHINE, PORTABLE CRUSHER
DOVE Jaw Crushers are ideal rock crusher machines, highly efficient and economical for handling Primary and Secondary stone crushing applications of various ores and bulk materials with compressive strength below 320 MPa. DOVE Crushers are supplied in Stationary complex plant configuration, or in Portable and Mobile configuration.
Designed with optimum cavities and height in relation to feed openings of up to (1,500 X 1,800 mm), DOVE Rock Crushers ensure minimum blockage of the material, higher crushing ratios of up to (1,000 TPH), and compact design.
DOVE Jaw Crushers are supplied in large range of two models for Laboratory (0.550 – 3.0 TPH), and sixteen models (4.5 – 1,000 TPH), for major rock crushing applications in Mining, Construction and Aggregates, Solid Waste processing, Hydropower projects, and various other industries.
DOVE JAW CRUSHER FEATURES:
High tonnage capacity of up to 1,000 Tons/ Hour, and low operating cost.
Designed for toughest rock material, with compressive strength of up to 320 MPa.
Supplied for Primary coarse crushing and secondary Fine crushing, within the rock reduction plant.
Wide range of closed side setting adjustment.
DOVE supplies laboratory Jaw Crushers, Small jaw crushes, Medium size and large size Crushers, with inlet width of (100 – 1,800 mm).
DOVE ROCK CRUSHERS APPLICATIONS:
DOVE Jaw Crushers are effectively employed in various industries, such as Mining, Road and railways construction, Building construction material production, Metallurgy, Hydropower dam, etc.
DOVE Jaw Crushers effectively in almost most applications used as the main primary crushers, in order to reduce rock size and pass to secondary crusher, where in many cases are also used as secondary crusher.
DOVE Jaw Crushers are highly popular, since they can process large volume of hard rock efficiently, and due to their small physical size design, high efficiency, strong crushing ability and low investment cost, it also make them ideal solution for underground mining and DOVE Mobile crushing plants.
It is designed for rock reduction and crushing of various minerals and rock types with compression strength below 320 MPa, including Iron ore, Copper ore, Gold ore, Quartz, Granite, Basalt, Limestone, River gravel, Sandstone, Shale, etc.
DOVE Jaw Crushers, factory and crushing operation video.
RANGE AND TECHNICAL SPECIFICATIONS
LABORATORY RANGE

MODELS

FEED OPENING

CAPACITY

MAX.FEED SIZE

DISCHARGE SIZE

MOTOR POWER

(mm)

Tonnes/Hour (TPH)

(mm)

(mm)

(kW)

(HP)

DI-JC550
100 x 60
0.045 – 0.550
<50
0.1 – 15
2.2
3
DI-JC3000
150 x 125
0.4 – 3
<100
6 – 38
3
4
SMALL TO LARGE SCALE CRUSHERS (COARSE CRUSHING)
MODELS
FEED OPENING
CAPACITY
MAX. FEED SIZE
DISCHARGE SIZE
MOTOR POWER
(mm)
Tonnes/Hour (TPH)
(mm)
(mm)
(kW)
(HP)
JCC-2540
250 x 400
4.5 – 20
210
20 – 80
18.5
25.5
JCC-4060
400 x 600
15 – 60
340
40 – 90
30
40
JCC-5075
500 x 750
40 – 100
425
50 – 100
55
74
JCC-6090
600 x 900
90 – 180
500
75 – 200
75
101
JCC-7510
750 x 1,060
110 – 240
630
80 – 200
90
121
JCC-9012
900 x 1,200
135 – 300
750
100 – 200
110
148
JCC-1012
1,000 x 1,200
280 – 320
850
190 – 260
160
215
JCC-1215
1,200 x 1,500
350 – 500
1,000
150 – 300
220
295
JCC-1518
1,500 x 1,800
480 – 1,000
1,300
210 – 360
280
375
SMALL TO LARGE SCALE CRUSHERS (FINE CRUSHING)
MODELS
FEED OPENING
CAPACITY
MAX. FEED SIZE
DISCHARGE SIZE
MOTOR POWER
(mm)
Tonnes/Hour (TPH)
(mm)
(mm)
(kW)
(HP)
JCF-1525
150 x 250
1 – 3
125
10 – 40
7.5
10
JCF-1575
150 x 750
7.5 – 22.5
125
10 – 40
15
20
JCF-2030
200 x 300
3 – 8
180
20 – 70
11
15
JCF-2575
250 x 750
15 – 30
210
10 – 50
30
40
JCF-2510
250 x 1,000
20 – 50
210
15 – 55
37
50
JCF-2512
250 x 1,200
25 – 60
210
15 – 60
37
50
JCF-3013
300 x 1,300
30 – 90
250
20 – 90
55
74
* DOVE reserves the right to modify the specifications at anytime, without prior notice.
WARRANTY:
All DOVE equipment carry a standard Manufacturer's Warranty, which can be extended to 5 years, in addition to lifetime spare parts supply service.
DOVE provides full technical services worldwide, including plant engineering design, mining site construction design, site assembly, installation, test run and training.
MANUFACTURING FACILITIES:
DOVE Equipment & Machinery manufacturing facilities are located about 30 minutes drive from the company Head office in Bangkok, which includes 8 factories and showroom.
DOVE Equipment and Machinery with over 50 years manufacturing expertise, and the largest range of mining and minerals processing technologies is the recipient of ISO 9001: 2015, Green Industry Certification, and Golden Eagle of Asia Awards 2020 Best Business of the Year (DOVE Equipment and Machinery and DOVE Instruments), which insures highest quality and standard of our manufacturing and customer service practices.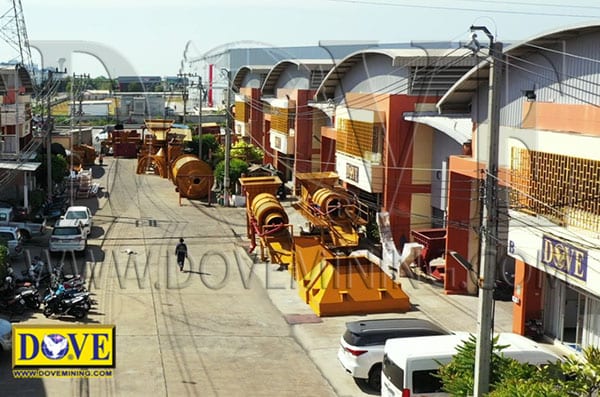 DOVE Manufacturing Facilities.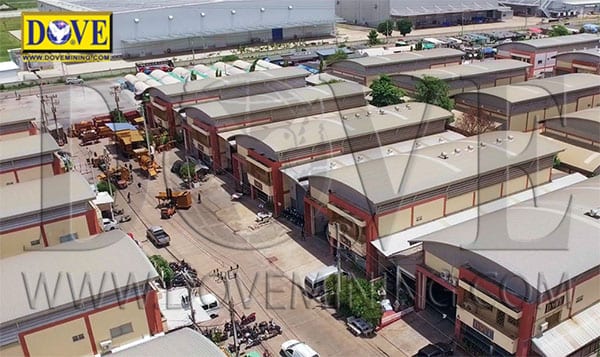 DOVE Equipment and Machinery 8 Factories.
Video DOVE Manufacturing Facilities:
MINERAL TEST SERVICES:
DOVE laboratory will assay your ore samples rapidly and analyze your raw materials and recommend the most efficient processing plant according to the ore specifications, minerals composition, and ore assay results, and your project size and the geologic and topographic conditions of your mine.
Please,  CONTACT US  for your sample analysis and quotation.
ROCK CRUSHER OPERATING PRINCIPLE:
DOVE Jaw Crusher consist of the following main components, The Fixed Jaw Plate (Side Plate), Movable Jaw plate, Eccentric Shaft and Spring, Crushing Chamber, Discharge opening outlet, Drive Motor, Belt and Pulley.
The two Jaw Plates are the main working part inside the crusher. One Jaw plate (Fixed plate) is positioned vertical and fixed on the front part wall inside the crushing chamber, the other Jaw Plate (Movable Jaw Plate) is in inclined position opposite the Fixed Jaw Plate. The electric motor drives the Belt and Pulley to make the Movable Jaw plate move back and forth, up and down, through the Eccentric Shaft, against the Fixed Jaw Plate. The raw material enters the Crushing Chamber through the Crusher Inlet and soon as it drops between the two jaw plates, it squashed or split when movable jaw Plate move toward fixed plate and the gap is become narrow.
When Movable Jaw Plate turn back by the movement of the Eccentric Shaft and Spring the material and rock particles, which are squashed and crushed are discharged from the Discharge opening under the jaw plate. The Bulk production is achieved by continuous movement of the Eccentric shaft and the Movable Jaw plate crushing and releasing the crushed rocks through the Discharge outlet.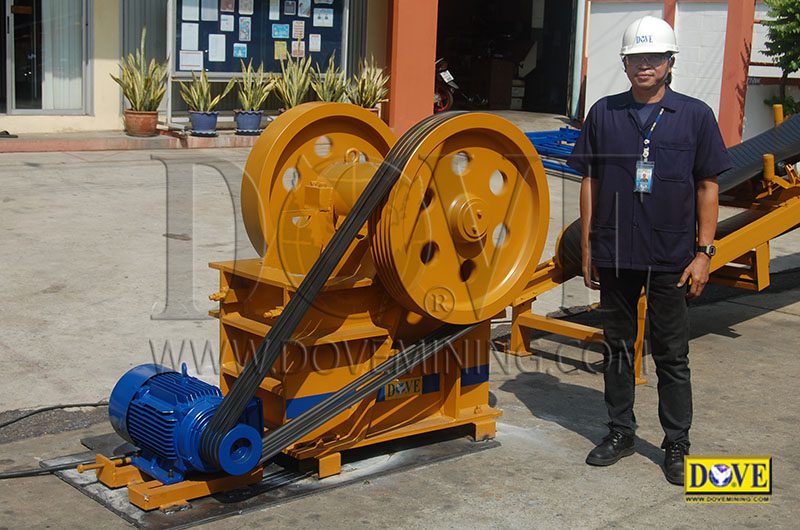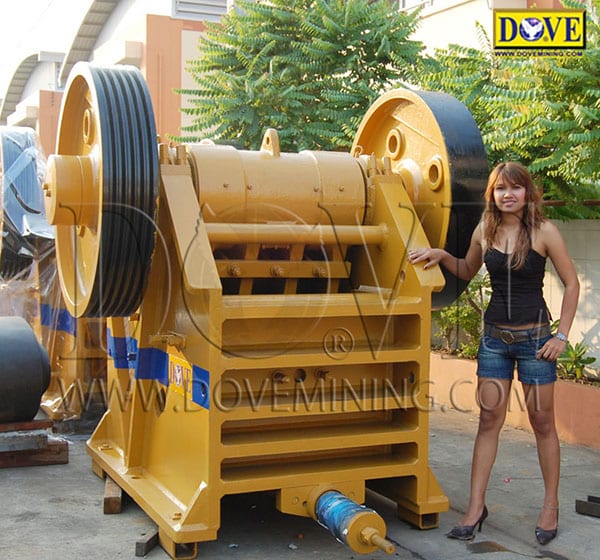 WE HIGHLY RECOMMEND FORWARDING SOIL SAMPLES OF YOUR MINE TO US FOR ANALYSIS, IN ORDER TO DESIGN AND RECOMMEND THE MOST EFFICIENT PROCESSING PLANT, TAILOR MAID TO YOUR MINE REQUIREMENTS, FOR HIGHEST PRODUCTION RECOVERY.