DREDGING EQUIPMENT, GOLD DREDGE, DIAMOND DREDGE 
DOVE is a major manufacturer of highly efficient Dredging equipment, for river mining of Gold, Diamonds and other minerals.
DOVE powerful Dredges are produced in five standard models with various various capacities range of (80 m3/Hour -1,000 m3/Hour) and depths of 8 meters to 50 meters (26.2 ft. – 164 ft.), or (8.74 – 54.68 yards).
RIVERMINER® Plants, exclusively produced by DOVE, are combination of DOVE Dredge and DOVE floating wash plant, designed for the most effective, efficient and economic river mining operations.
RIVERMINER® Plants eliminates the necessity for transporting the dredged material to the shore for off-shore mineral processing, since all material will be simultaneously processed on-shore and on board of the floating plant, this results in great saving in operation costs, faster processing time, higher daily production rate and higher security of the production.
EFFICIENCY: DOVE Dredges provide the most advances dredging technology, which achieves a fully automatic production recovery solution, and deliver consistent operations performance shift after shift.
OPTIONAL AUTOMATIC EXTRACTION: DOVE Dredges are configured with feature of extraction module, which eliminates the use of Diver. This results in total security of production, as eliminates access by divers to the production.
HIGH PRODUCTION RATIO: DOVE Dredges provide higher ratio of production, as material are recovered automatically, high speed in large volume, without interference by divers, and simultaneously pumped to the floating plant, for final processing and production recovery.
ECONOMICAL: RIVERMINER® is the most economical and efficient solution for automatic and continuous extraction, processing and recovery of Gold and Diamonds simultaneously on board, eliminates transport of material to shore for processing.
EXCLUSIVE DESIGNS: RIVERMINER® exclusive design for recovery of gold, diamonds and other metals and minerals result in 100% recovery with no loss, down to 40 microns (0.040 mm), (0.0016 inches) particle size.
PRODUCTION SECURITY: RIVERMINER® is configured with security system and locking mechanism, which protect production, eliminate unauthorized access to production.
EASY TO OPERATE: DOVE RIVERMINER® require only 3-4 days of training to learn the operation and maintenance of the plants.
ENVIRONMENT-FRIENDLY: The recovery and concentration stage is 100% environment-friendly without using any chemicals (no mercury, no cyanide.)
WIDE RANGE:
DOVE Dredges are produced in a wide variety of designs, which can be suction dredges, cutter dredges and bucket dredges, as well as dredges that are customized according the client's requirements.
DOVE supplies a wide range of dredges. DOVE Dredges are offered as standardized dredging equipment lines, as well as customized dredge designs based on your particular requirements. Our engineers will be working closely with your team to customize a dredging plant for your particular needs.
SUCTION DREDGES:
DOVE Suction Dredges are designed as a dredging mechanism that does not necessitate the presence of a diver, reducing the risk of injury and loss of human life.
DOVE Suction Dredge's extraction module consists of a powerful arm equipped with a classifying head, which can automatically screen and recover all solid particles, up to 4" (100 mm). This extraction module is configured with powerful hydraulic agitators that will support and speed up recovery process of the sand and gravel by creating turbulence on the riverbed. This extraction module is also designed with various working depths, in accordance with the dredging pump's specifications.
SUCTION DREDGES TECHNICAL SPECIFICATION
MODEL
CAPACITY
DREDGING DEPTH
SOLID PARTICLE INTAKE

POWER CONSUMPTION

SLURRY m3/hour
SOLID m3/hour
m.
ft
mm
inch
HP (kW)
DS-80
80
20
8
26.2
30
1.2
40 (30)
DS-300
300
30 – 50
10
32.8
82
3.2
67 (50)
DS-450
450
70 – 90
20
65.6
120
4.7
101 (75)
DS-600
600
110 – 150
30
98.4
160
6.0
160 (120)
DS-800
800
160 – 190
45
147.6
50
2.0
214 (160)
DS-1000
1000
200 – 230
50
164.0
50
2.0
268 (200)
CUTTER SUCTION DREDGES:
DOVE Cutter Suction Dredges are suction dredges equipped with a cutting mechanism at their suction end. The cutting mechanism serves to loosen the hardened material that forms the riverbed to allow its excavation by the suction inlet.
BUCKET CHAIN DREDGES:
DOVE Bucket Chain Dredges are configured with buckets that are attached to a chain. The chain circulates, dragging the buckets along. This motion of the buckets allows for ease of excavation of the sediments on the riverbed. Dredges are also known as Gold dredges, diamond dredges, gold and diamond dredges, dredging plants, dredge mining plants and dredgers.
DOVE Dredges, besides being integrated with DOVE Floating wash plants, can also be designed in conjunction with land-based processing plants based on the client's requirement.
DOVE is a major manufacturer of Dredging equipment for various industries, including: Mining (Diamond Dredges, Gold Dredges, Sand, Gravel & other Minerals Dredges), Construction, Environmental, Navigational, Recreational, Restoration, Maintenance, Etc.
RIVERMINER®:
RIVERMINER® Plants provide you with the most advanced, efficient and economical solution for simultaneous extraction, processing and 100% recovery of all gold, diamond, gemstones, and other metals and minerals on board, with no loss.\ The floating wash plants are designed in various capacities, in accordance with the DOVE Dredges they are integrated with, and for a variety of applications that match the projects requirements and ore characteristics.
DOVE RIVERMINER®: production to the field video.
DOVE RIVERMINER®: in operation video.
WARRANTY:
All DOVE equipment carry a standard Manufacturer's Warranty, which can be extended to 5 years, in addition to lifetime spare parts supply service.
DOVE provides full technical services worldwide, including plant engineering design, mining site construction design, site assembly, installation, test run and training.
MANUFACTURING FACILITIES:
DOVE Equipment & Machinery manufacturing facilities are located about 30 minutes drive from the company Head office in Bangkok, which includes 8 factories and showroom.
DOVE Equipment and Machinery with over 50 years manufacturing expertise, and the largest range of mining and minerals processing technologies is the recipient of ISO 9001: 2015, Green Industry Certification, and Golden Eagle of Asia Awards 2020 Best Business of the Year (DOVE Equipment and Machinery and DOVE Instruments), which insures highest quality and standard of our manufacturing and customer service practices.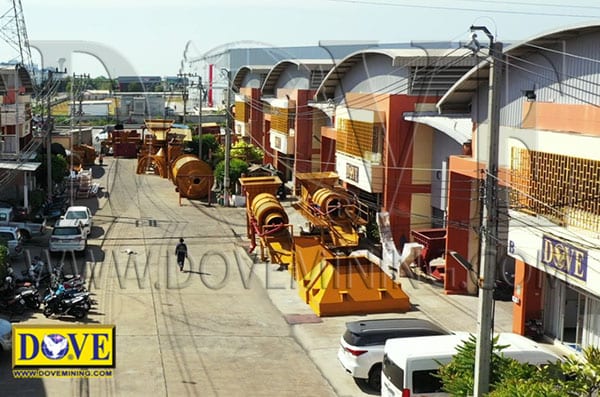 DOVE Manufacturing Facilities.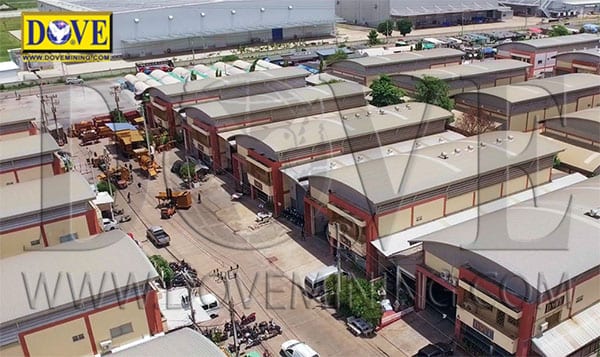 DOVE Equipment and Machinery 8 Factories.
Video DOVE Manufacturing Facilities:
MINERAL TEST SERVICES:
DOVE laboratory will assay your ore samples rapidly and analyze your raw materials and recommend the most efficient processing plant according to the ore specifications, minerals composition, and ore assay results, and your project size and the geologic and topographic conditions of your mine.
Please,  CONTACT US  for your sample analysis and quotation.
WE HIGHLY RECOMMEND FORWARDING SOIL SAMPLES OF YOUR MINE TO US FOR ANALYSIS, IN ORDER TO DESIGN AND RECOMMEND THE MOST EFFICIENT PROCESSING PLANT, TAILOR MAID TO YOUR MINE REQUIREMENTS, FOR HIGHEST PRODUCTION RECOVERY.