BALL MILL
GRINDING MILL, SMALL BALL MILL, LABORATORY BALL MILL
DOVE Ball Mills are highly efficient grinding mills designed to grind and blend bulk material ranging from soft, fibrous to hard and brittle material.
DOVE Ball Mills are supplied in a wide variety of capacities and specifications. DOVE small Ball Mills designed for laboratories ball milling process are supplied in 4 models, capacity range of (200g/h-1000 g/h). For small to large scale operations, DOVE Ball Mills are supplied in 17 models, capacity range of (0.3 TPH – 80 TPH).
With over 50 years experience in Grinding Mill Machine fabrication, DOVE Ball Mills as critical component of DOVE Crushing plants are designed with highest quality of material for long life and minimum maintenance, to grind ores to 35 mesh or finer.
DOVE Grinding Mills are supplied in a wide range of capacities and specifications, for reliable and effective grinding, size reduction applications and for diverse applications of either dry or wet ore.
DOVE Ball Mills are also a major component of DOVE GOLDROCKMINER® and SPEEDMINER® plants.
GOLDROCKMINER®  are complete processing plants, produced with capacities of 2-2,000 TPH (solids), designed for hard rock gold mining, for hard rock base metals, ferrous metals and aggregates.
SPEEDMINER® Mobile Hard Rock Processing Plants are supplied in 11 models with the capacity range of 2-80 TPH (solids).
SPEEDMINER® Processing Plants are fully integrated plants, they are easily assembled and disassembled.
SPEEDMINER® Hard Rock Processing Plants are mounted on rugged trailers and heavy-duty wheel-sets that provides mobility in the mine.
• VARIETY OF DESIGNS:
DOVE Ball Mills are supplied for a wide range of applications, for either wet or dry grinding, for both Batch and Continuous operation, as well as open and Closed Circuit Ball Milling Process.
• BALL MILL BALLS (GRINDING BALLS):
DOVE Ball Mills are designed to operate with various types of grinding media (Grinding Balls), DOVE supplies various types and sizes of Ball Mills Balls. DOVE supplies Steel Balls in Various sizes and specifications. Cast Iron steel Balls, Forged grinding steel balls, Glaze Ball, High Chrome cast steel bars, with hardness of 60-68 HRC. We also supply Grinding Cylpebs with surface hard ness of 60-68 HRC, and grinding Rod with surface hardness of 55-60 HRC.
• VARIOUS MATERIAL:
DOVE Ball Mills is suitable for material of all degree of hardness.
• RUGGED BUILT:
DOVE Ball Mills are made of high – grade cast and carbon steel for extra strength, long and trouble-free operations. The inner lining plate designed with high manganese steel for long life and minimum wear off.
• QUALITY ENGINEERING DESIGN:
DOVE Ball Mill can be integrated in a Complete Plant designed by DOVE Engineering Services, provided for our Clients application and supplied with all components of the plant for efficient processing, smooth operation and efficient integration with the balance of the Processing Plant.
DOVE BALL MILL APPLICATIONS:
DOVE Ball mill, also known as Grinding mill, Mining mill, Pebble mill, Ball & Pebble mill, is an important machinery in the mining and various other industries, which would require grinding different material.
They are highly efficient Grinding mill machines, designed for grinding applications, where fine material is required. DOVE  Ball Mills are used in supplied and applicable for wet and dry grinding applications within the following branches of industries: 
Mining, Hard Rock (primary deposits) Gold Mining Application, as well as Platinum base metals, Base Metals, Ferrous Metals, and light metals.
Construction and Agregate applications.
Waste Processing, Municipal Solid waste application.
Food Processing
Chemical
Pyrotechnics
Ceramics
Pharmaceutical
DOVE Crushing and Grinding Plant, operation video (Sudan)
DOVE Ball Mill, factory video.
RANGE AND TECHNICAL SPECIFICATIONS:
MODEL

CAPACITY

POWER (MOTOR)
HP
KW
BML-200
200 g/h
0.34
0.25
BML-1000
1000 g/h
0.34
0.25
DGL-20
20 kg/h
1.5
1.1
SMALL TO LARGE SCALE MILLS
MODEL

CAPACITY
POWER (MOTOR)

TPH
HP
KW
BML-0206
0.3-0.6
15
11
BM-0306
1.5 – 2
25
18.5
BM-0310
3 – 3.5
30
22
BM-0408
4 – 5
50
37
BM-0510
5.5 – 6
74
55
BM-0515
6.5 – 7
100
75
BM-0519
7.5 – 8
148
110
BM-0615
9 – 12
208
155
BM-0621
13 – 15
282
210
BM-0623
16 – 17
328
245
BM-0715
18 – 20
328
245
BM-0722
22 – 25
375
280
BM-0723
26 -28
510
380
BM-0724
29 – 30
510
380
BM-0815
32 – 35
429
320
BM-0825
36 – 40
510
380
BM-0915
50 – 60
644
480
BM-1015
70 – 80
1072
800
WARRANTY:
All DOVE equipment carry a standard Manufacturer's Warranty, which can be extended to 5 years, in addition to lifetime spare parts supply service.
DOVE provides full technical services worldwide, including plant engineering design, mining site construction design, site assembly, installation, test run and training.
MANUFACTURING FACILITIES:
DOVE Equipment & Machinery manufacturing facilities are located about 30 minutes drive from the company Head office in Bangkok, which includes 8 factories and showroom.
DOVE Equipment and Machinery with over 50 years manufacturing expertise, and the largest range of mining and minerals processing technologies is the recipient of ISO 9001: 2015, Green Industry Certification, and Golden Eagle of Asia Awards 2020 Best Business of the Year (DOVE Equipment and Machinery and DOVE Instruments), which insures highest quality and standard of our manufacturing and customer service practices.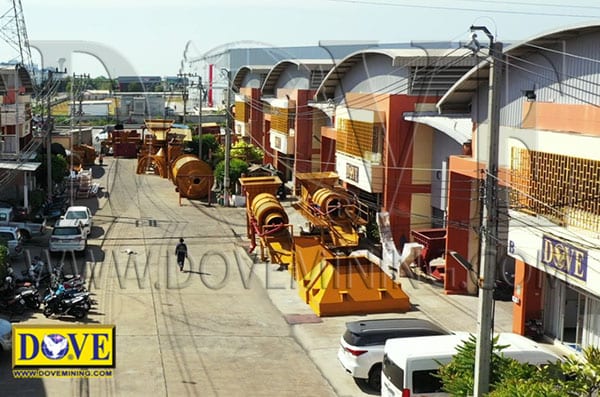 DOVE Manufacturing Facilities.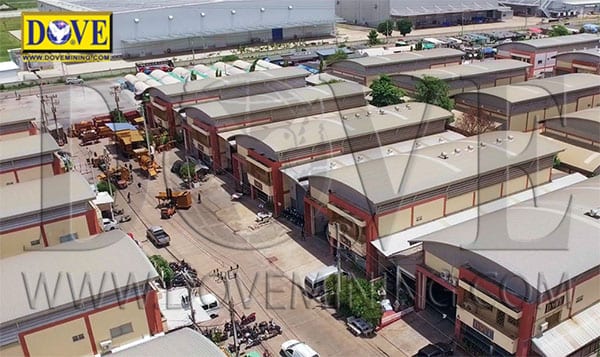 DOVE Equipment and Machinery 8 Factories.
Video DOVE Manufacturing Facilities:
MINERAL TEST SERVISES:
DOVE laboratory will assay your ore samples rapidly and analyze your raw materials and recommend the most efficient processing plant according to the ore specifications, minerals composition, and ore assay results, and your project size and the geologic and topographic conditions of your mine.
Please,  CONTACT US  for your sample analysis and quotation.
DOVE ball mills is a rotating horizontal cylinder that tumbles the material to grind with a certain media. The standard media that we use in our ball milling process are the steel grinding balls, however depending on the specific application, we can configure the grinding mill with different media.
DOVE supplies various types and sizes of Ball Mill Balls, including; Cast Iron steel Balls, Forged grinding steel balls, High Chrome cast steel bars, with surface hardness of 60-68 HRC. DOVE Ball Mills achieves size reduction by impact and attrition. When the cylinder rotates, the balls are dragged to almost the top of the shell, and from there, they fall unto the material, which lead to the material breaking due to the impact.
DOVE Ball Mills are used in hard rock mineral processing plants as an ore-dressing step to grind the rocks into fine powder size, liberating the mineral particles from the rocks. This will ensure that the ore is well prepared for the next stage of processing and optimize the recovery of the minerals.
DOVE ball mill is integrated and used in DOVE Portable and Semi-Stationary Hard Rock plants (Hard Rock processing plants) to efficiently grind the ore from primary deposit until the liberation size of valuable minerals is reached. DOVE ball mill is the key grinding equipment after material is crushed. It is used to grind and blend bulk material into powder form using different sized balls. The working principle is simple, impact and attrition size reduction take place as the ball drops from near the top of the rotating hollow cylindrical shell of the Ball Mill. The output materials will be feed to the processing and recovery machines.
DOVE Ball Mills are deigned for either wet or dry grinding of materials, in various models, and in accordance to the processing and the crushing plant design, to cater to the liberation size of the minerals and the hardness of the ore.
DOVE supplies two different kinds of ball mills Grate type, and Overflow type. The difference between the two types is according to their ways of discharging material, and the plant flow design specifications.
The Grinding Balls will grind the material into powder size of 20 to 75 micron. In mining operations, this will allow for the liberation of gold and other precious metals that are hosted by the rocks. Many types of grinding media are suitable for use in a ball mill, each material having its own specific properties, specification and advantages.
Key factors of grinding media are consist of the following:
Media Size: The grinding media particles should be substantially larger than the largest pieces of final material after grinding. The smaller the media particles, the smaller the particle size of the final product.
Density: The media should be denser than the material being ground. It becomes a problem if the grinding media floats on top of the material to be ground.
Hardness: The grinding media needs to be harder than the material to be milled to grind the material, but, where possible, not so tough that it also wears down the grinding mill.
Composition: Each ball mill application has different requirements. Some of these requirements are relates to the grinding media being in the finished product, while others are based on how the media will react with the material being milled. Therefor, grinding media selection plays major factor on the final milled product.
Color: In certain application of ball mill process the color of the finished product is important, therefor, color and material of the grinding media must be selected accordingly.
Contamination: In certain grinding mill process, low contamination is important, the grinding media may be selected for ease of separation from the finished product, for example steel dust produced from steel balls can be magnetically separated from non-ferrous products. An alternative to separation is to use media of the same material as the product being milled.
Corrosive: Certain type of media, such as steel balls, may react with corrosive materials. For this reason, stainless steel balls, or ceramic balls, and flint grinding media may each be used when corrosive substances are present during grinding.
WE HIGHLY RECOMMEND FORWARDING SOIL SAMPLES OF YOUR MINE TO US FOR ANALYSIS, IN ORDER TO DESIGN AND RECOMMEND THE MOST EFFICIENT PROCESSING PLANT, TAILOR MAID TO YOUR MINE REQUIREMENTS, FOR HIGHEST PRODUCTION RECOVERY.