VIBRATING FEEDER
ELECTROMAGNETIC VIBRATING FEEDER, LINEAR VIBRATING FEEDER
DOVE Vibrating Feeder, also referred to as Electromagnetic Vibrating Feeder, or Vibrating Pan Feeder is highly efficient feeder designed to perform the function of quantitively feeding ore into the next stage of the processing plant Uniformly and Continuously for various type of material in lump form, Granular, or Powder form.
DOVE Electromagnetic Vibrating Feeders are supplied in 11 models, capacity range of (5 – 1,400 metric Tons/Hour), with various technical specifications, to be integrated in various feeding stages of the Hard Rock Processing plants, or Alluvial Processing Plants, Dredging and Floating Processing Plants, Quarries, Coal Plants, Metallurgical, Chemical, Agriculture, Solid waste treatment plants, etc.
DOVE Vibrating feeders are well known in the mining industry for quality, ruggedness, and efficiency, providing continuous feed rate under various extreme conditions of material loading, heavy shock loads from earthmoving equipment, etc.
DOVE with over 50 years fabrication expertise, supplies the largest range of Vibrating Feeders, designed, and configured for Uniform, Continuous and Quantitative feeding of various type of material, including Lump type, Granular type, and fine Powder type of material efficiently from material storage equipment to various receiving equipment, or vice versa.
DOVE supplies the largest range of Electromagnetic Vibrating feeders in 11 models, with capacity range of (5 – 1,400 metric Tons/Hour), as well as special configurations for processing plants of up to 2,000 metric Tons/Hour.
DOVE standard models of Electromagnetic Vibrating Feeders are supplied in wide range of dimensions with width range of (340 mm -2,425 mm), and length range of (910 mm – 4,060 mm), to easily fit every application. For special applications, DOVE can customize the Feeder specifications.
DOVE supplies Electromagnetic Vibrating Feeders for Stationary plants, Portable and Mobile processing plants, Hard Rock plants, Alluvial Processing Plants, Dredge and Floating plants, Tailing plants, Aggregate, Construction material, Agriculture, Chemical, Solid waste, etc.
DOVE Electromagnetic Vibrating Feeders can be designed and customized according to the client requirements and processing plant specifications.
DOVE Electromagnetic Vibrating Feeders have simple structure, easy operation, low energy consumption, and not require lubricating.
DOVE Electromagnetic Vibrating Feeder is designed for Low noise, Low Power consumption, Steady vibration, Continuous and uniform feeding, Continuous and large feeding capacity.
DOVE Vibrating Feeder is configured with abrasion resistant components, abrasion resistant Lined Bed and Side Plates.
DOVE Vibrating Feeder is designed with Vibrating mechanism to create upward movement of material and force material to continuously jump up and jump forward with parabolic trajectory, resulting in reduction of abrasion to the unit.
DOVE Electromagnetic Vibrating Feeders are widely used in Mining plants, Cement production plants, Construction material production, Lime, Silicate, Ore dressing industries, Power sector, Steel sector, Chemical industry, Foundries, Solid waste treatment plants, Agriculture industry, etc.
DOVE Vibrating Feeder is effectively deployed in Hard Rock Mobile & Stationary processing Plants, as well as Mobile and Stationary Alluvial plants, Floating plants, Dry Processing plants, and Tailing plants.
DOVE Electromagnetic Vibrating Feeder is implemented after the Crushers in Hard Rock (primary deposit) mining applications, to feed the crushed ore to Ball Mill for further grinding and size reduction, and grinded ore to the next stage of processing.
DOVE Electromagnetic Vibrating Feeder is highly efficient device to be integrated in Dry Processing plants, to be configured after the Ball Mill or Vibrating Screens to feed conveyers feeding the Feed Hoppers and Elevators feeding the Dry Concentrators.
VIBRATING FEEDERS TECHNICAL SPECIFICATIONS
MODELS
MAX. FEED SIZE
CAPACITY
MOTOR POWER
DIMENSION SIZE
WEIGHT
L x W x H
(mm)
(TPH)
(kW)
(mm)
(TON)
EVF-5
50
5 – 7
0.06
910 x 340 x 360
0.07
EVF-15
50
10 – 15
0.15
1,171 x 456 x 450
0.15
EVF-35
75
25 – 35
0.20
1,325 x 518 x 520
0.20
EVF-70
100
50 – 70
0.45
1,615 x 682 x 645
0.40
EVF-140
150
100 – 140
0.65
1,815 x 850 x 765
0.60
EVF-210
200
150 – 210
1.20
2,410 x 720 x 1,030
1.20
EVF-350
250
250 – 350
3.00
2,800 x 840 x 1,130
1.90
EVF-560
300
400 – 560
4.00
3,302 x 1,000 x 1,340
3.00
EVF-840
350
600 – 840
5.50
3,515 x 1,010 x 1,440
3.70
EVF-1050
500
750 – 1,050
4.00 x 2
3,630 x 2,304 x 1,450
6.40
EVF-1400
500
1,000 – 1,400
5.50 x 2
4,060 x 2,425 x 1,545
7.60
* DOVE reserves the right to modify the specifications at anytime, without prior notice.
WARRANTY:
All DOVE equipment carry a standard Manufacturer's Warranty, which can be extended to 5 years, in addition to lifetime spare parts supply service.
DOVE provides full technical services worldwide, including plant engineering design, mining site construction design, site assembly, installation, test run and training.
MANUFACTURING FACILITIES:
DOVE Equipment & Machinery manufacturing facilities are located about 30 minutes drive from the company Head office in Bangkok, which includes 8 factories and showroom.
DOVE Equipment and Machinery with over 50 years manufacturing expertise, and the largest range of mining and minerals processing technologies is the recipient of ISO 9001: 2015, Green Industry Certification, and Golden Eagle of Asia Awards 2020 Best Business of the Year (DOVE Equipment and Machinery and DOVE Instruments), which insures highest quality and standard of our manufacturing and customer service practices.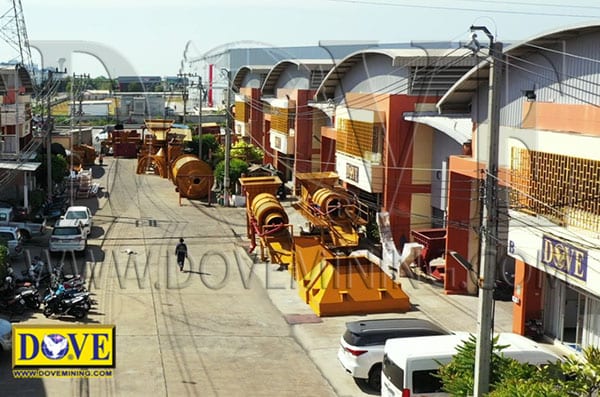 DOVE Manufacturing Facilities.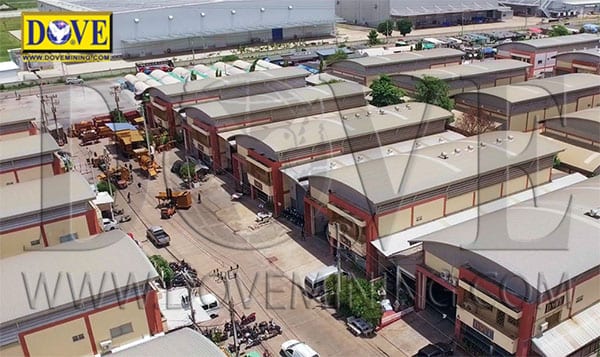 DOVE Equipment and Machinery 8 Factories.
Video DOVE Manufacturing Facilities:
MINERAL TEST SERVICES:
DOVE laboratory will assay your ore samples rapidly and analyze your raw materials and recommend the most efficient processing plant according to the ore specifications, minerals composition, and ore assay results, and your project size and the geologic and topographic conditions of your mine.
Please,  CONTACT US  for your sample analysis and quotation.
DOVE Electromagnetic Vibrating Feeders are highly effective and popular feeders with a history of reliability and durability in the mining, aggregate, construction, and various other industries. They are designed for continuous, homogeneous, and quantitative feeding of various types of Ore, including Lump ore, Granular and Powder efficiently and continuously into the next device within the processing plant.
DOVE Electromagnetic Vibrating Feeders are designed with the following components:
The Pan section, or the Chute, which is basically where the feed is deposited from the feed hopper, or Conveyer belt. The Chute is located on the top of the Vibrating Base. The Chute is designed with walls on three side, to protect the material falling over and, on the side, on vibrating base and the Electromagnetic Vibro Drive. The Chute is protected by Wear Resistant Linings, installed inside the Chute, on the Bottom and sides. The Chute is also configured with two pair of Isolation Springs and Hooks, designed to mount the Feeder on suspension.
Vibrating Mechanism, or Electromagnet Vibro Drive is located at the head of the Feeder, and it is directly connected to the Vibrating Base. The Vibrating Base is located directly under the Chute, and it is protected by steel wall extension, around the Chute.
Installation, DOVE Electromagnetic Vibrating Feeder is generally mounted by suspension, connected to suspension boom. The suspension boom is installed on a structure with sufficient rigidity, to reduce lateral oscillation of the Feeder. In another configuration, the Electromagnetic Vibrating Feeder can be installed on table top.
WE HIGHLY RECOMMEND FORWARDING SOIL SAMPLES OF YOUR MINE TO US FOR ANALYSIS, IN ORDER TO DESIGN AND RECOMMEND THE MOST EFFICIENT PROCESSING PLANT, TAILOR MAID TO YOUR MINE REQUIREMENTS, FOR HIGHEST PRODUCTION RECOVERY.