DOVE Flood Lifters are designed for Efficient, economical, and powerful Flood Prevention Control and Rapid bulk water transfer from your mining site during rainy season, or during normal operation to manage the recycling water reservoirs. Dove Flood Lifters are supplied in three models, with capacity range of 600-6,000 m3/hr (10,000 – 100,000 lit/min) of Mine surface water slurry.
DOVE Flood lifters are supplied in various capacities, configured with Diesel engines, or Electric motors. DOVE Flood Lifters are efficient and economical means of Flood Prevention control, and Recycling water reservoir management and are necessity for every mining operation, as during rainy season it can rapidly bulk transfer the flood water from the site and clear the site for continue operation, or to be deployed for rapid transfer of water from and to Dams.
Dove Flood lifters are also extensively used in other industries (i.e., Agriculture, Aquaculture Farming, etc.).
Application for Mining
Water recycling configuration
Reservoir to reservoir.
Water ex settling pond/ tailing dam transfer to main reservoir.
Total water management in the mining project.
Rapid bulk water transfer from river and other source to the Tailing Dams.
Application for Aquaculture & Agriculture
Most suitable pump for bulk water transfer in any type of Aquaculture farming, or Agriculture projects for fresh or saline water, fish of crustacean farming.
Ideal for irrigation, where large water transfer is required.
Flood Water Control
For use in any type of Rapid Flood Prevention control in the mining site, or City and residential areas, where rapid bulk water transfer pumping is required during rainy season.
Rapid Bulk Water Transfer with capacity from 600 to 6,000 m3/hr (10,000 to 100,000 lit/min).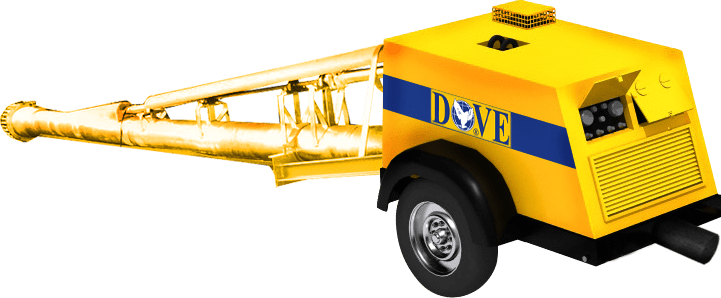 FLOOD LIFTERS' POPULAR MODELS TECH SPECS
Models

Pump Sizes

Capacity


m3/hr.

Motors

Head




m.

hp.

kw.

FLSP-080603

8 x 6
360-828
670
500
10-61

FLSP-100803

10 x 8
540-1,228
804
600
15-61

FLSP-121003

12 x 10
720-1,620
405
300
7-45
* DOVE reserves the right to modify the specifications at anytime, without prior notice.
All DOVE equipment carry a 2 years (24 months) standard Manufacturer's Warranty, which can be extended to 5 years, in addition to lifetime spare parts supply service.
DOVE provides full technical services worldwide, including plant engineering design, mining site construction design, site assembly, installation, test run and training.
DOVE laboratory will assay your ore samples rapidly and analyze your raw materials and recommend the most efficient processing plant according to the ore specifications, minerals composition, and ore assay results, and your project size and the geologic and topographic conditions of your mine.
Please,  CONTACT US  for your sample analysis and quotation.
CONTACT NOW FOR BROCHURE & QUOTATION