IMPACT CRUSHERS
IMPACT MILL, ROCK CRUSHER, MOBILE CRUSHER, PORTABLE CRUSHER
DOVE Impact Crushers, also referred to as Counter Impact Crushers are highly ideal rock reduction machines designed for primary, secondary and tertiary crushing of raw material for production of the construction material, ore crushing, mining, chemical industry, steel and iron industry, hard coal and Lignite, lime stone, gypsum and various other minerals.
DOVE Impact Rock Crushers are effectively employed for medium and fine crushing of materials with compressive strength less than 300 MPS such as Granite, Marble, Iron ore, Limestone, Concrete, Dolomite, etc.
DOVE Impact Mills are highly efficient for either high reduction ratios in crushing materials or to produce precisely shaved cubical end products.
DOVE Impact Crushers are supplied in stationary configuration, or portable, or mobile configuration.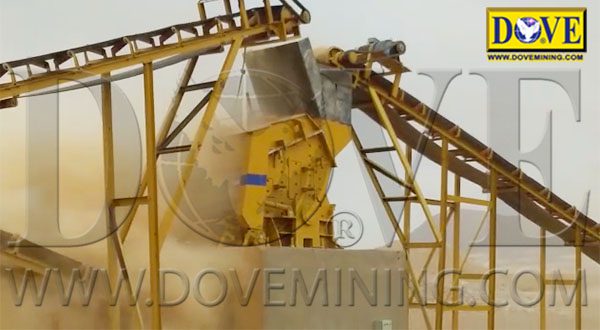 FEATURES:
Produce high quality precise cubic shape end cubical crush products.
Crushing settings are easily adjustable for end product size requirements.
High chrome blow bar, impacting resistance, Long operation life.
The Rotor fabricated from high carbon steel casting.
Simple structure, easy operation and maintenance.
Highly efficient as single rock reduction machine, or to be integrated within a complex processing plant.
Precise cubic end product, low stress and crack free products.
Good adjustability of the product curves.
Constant and standard product quality. Easy and low maintenance.
DOVE standard two years manufacturer's warranty which can be extended to five years.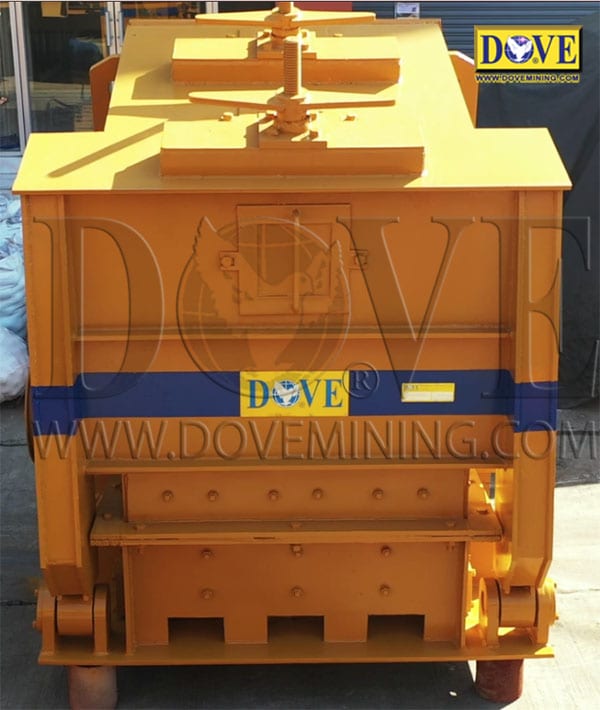 DOVE Impact Crushers, also referred to as Impact Mills, are supplied in seven standard models, with average feed particle size of 300 – 700 mm, and capacity range of 30 – 550 metric Tons per hour. Supplied in different configuration, as stationary single crusher, or integrated with other equipment and supplied in a complex crushing and processing plant. DOVE also supply the Impact Mill in portable or mobile configuration.
DOVE Impact Crushers are highly efficient, rugged and economical rock reduction machines utilized in various industries, including Aggregates and construction material production, Mining and Minerals processing, Recycling applications, Chemical industry, material processing of Metallurgy, Hydropower plant for material relocation, railway and roads.
DOVE Impact Crushers video
RANGE & TECHNICAL SPECIFICATIONS:
MODELS
MAX. FEED SIZE
CAPACITY
MOTOR POWER
WEIGHT
(mm)
TONNES /HOUR (TPH)
(kW)
(HP)
(TONS)
IC-1008
300
30 – 60
55
73.7
10.5
IC-1010
350
50 – 100
75
100
12.5
IC-1210
350
70 – 135
110
147.5
15.8
IC-1214
400
100 – 180
132
177
19.8
IC-1315
500
180 – 250
200
268.2
24
IC-1320
500
300 – 350
280
375.4
29
IC-1520
700
400 – 550
440
590
50.6
* DOVE reserves the right to modify the specifications at anytime, without prior notice.
WARRANTY:
All DOVE equipment carry a standard Manufacturer's Warranty, which can be extended to 5 years, in addition to lifetime spare parts supply service.
DOVE provides full technical services worldwide, including plant engineering design, mining site construction design, site assembly, installation, test run and training.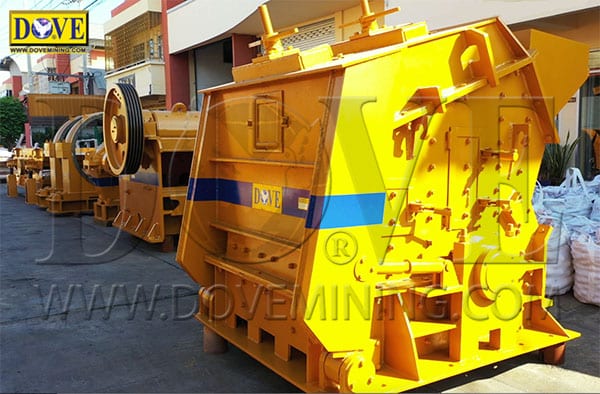 MANUFACTURING FACILITIES:
DOVE Equipment & Machinery manufacturing facilities are located about 30 minutes drive from the company Head office in Bangkok, which includes 8 factories and showroom.
DOVE Equipment and Machinery with over 50 years manufacturing expertise, and the largest range of mining and minerals processing technologies is the recipient of ISO 9001: 2015, Green Industry Certification, and Golden Eagle of Asia Awards 2020 Best Business of the Year (DOVE Equipment and Machinery and DOVE Instruments), which insures highest quality and standard of our manufacturing and customer service practices.
Video DOVE Manufacturing Facilities:
MINERAL TEST SERVICES:
DOVE laboratory will assay your ore samples rapidly and analyze your raw materials and recommend the most efficient processing plant according to the ore specifications, minerals composition, and ore assay results, and your project size and the geologic and topographic conditions of your mine.
Please,  CONTACT US  for your sample analysis and quotation.
The main moving component of DOVE impact crusher is the high speed rotating rotor connected to high speed motor, which is configured in the housing protected by High carbon wear plates. The rotating Rotor is configured with plate hammers or blow bars connected to each Rotor arm.
The principal operation of this mill is based on impact energy, where motor drives the Rotor and it rotates at a high speed and when the material enters the crushing chamber and get into the Blow bar working area they will be struck by the Blow bar and smashed against the plate hammers on the Rotor and continuously thrown to the Impact devices around the Rotor. The crushing and reduction process is repeated and the material would be crushed repeatedly in the crushing cavity until crushed material meets the requirements.
The material will exit from the discharge channel after they are crushed to the required size. The clearance between the Impact rack and the Rotor is the major factor, which can adjust the size and shape of the end product.
WE HIGHLY RECOMMEND FORWARDING SOIL SAMPLES OF YOUR MINE TO US FOR ANALYSIS, IN ORDER TO DESIGN AND RECOMMEND THE MOST EFFICIENT PROCESSING PLANT, TAILOR MAID TO YOUR MINE REQUIREMENTS, FOR HIGHEST PRODUCTION RECOVERY.