TROMMEL SCREENS
TROMMEL CLASSIFIERS, SCRUBBER TROMMELS, MULTI STAGE TROMMELS, SCREW CLASSIFIERS, SCRUBBER DRUMS, CONE TROMMELS, REVOLVING SCREENS
DOVE Trommel Screens are designed as highly efficient, rugged and economical solution for screening and classification of wide range of material, as well as to optimize the subsequent processing steps of recovery. Screening allows reducing investment and operating costs, and increasing the products quality with a rapid and large volume processing.
DOVE offers the largest range of Trommel Screens of different types and specifications, with a wide range of the processing capacities from 25 metric Tons/Hour up to 650 metric Tons/Hour, per single Trommel Screen.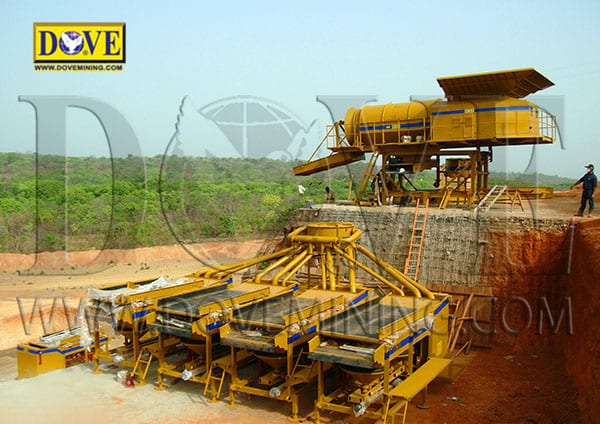 Largest Capacity Range
The capacity range per single Trommel Screen varies from 25 up 650 metric Tons/Hour.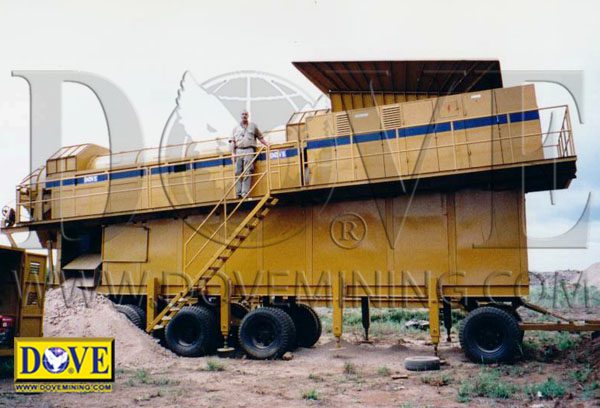 Quality Design
Fabricated with highest quality material and built to last.
DOVE Trommel Features:
DOVE Trommel Screens are designed for high performance screening, classification and grading applications.
Largest processing capacity range.
Unique screen design results in higher capacities, up to 4 times longer life and more efficient screening actions, with no material clogging and blockage of the screen.
Available in dry configuration and wet, equipped with high-pressure spray-bar network.
Chain drive and slope adjustment mechanism.
Trommels are supplied in portable or stationary configuration.
Lower total ownership cost.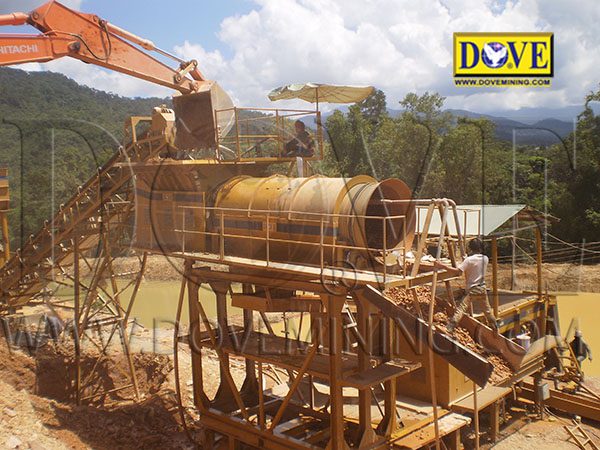 Trommel Wash Plant operation.
TROMMELS RANGE AND TECHNICAL SPECIFICATIONS
MODEL

CAPACITY TONNES/HOUR (TPH)

TYPE
POWER
kW
Hp
TC-2535
25 – 35 TPH
CLASSIFIER
5.5
7.4
TS-2535
SCRUBBER
7.5
10
TMS-2535
MULTI-STAGE
15
20
TC-5060
50 – 60 TPH
CLASSIFIER
7.5
10
TS-5060
SCRUBBER
7.5
10
TMS-5060
MULTI-STAGE
18.5
24.8
TC-1012
100 – 120 TPH
CLASSIFIER
15
20
TS-1012
SCRUBBER
15
20
TMS-1012
MULTI-STAGE
22
29.5
TC-1517
150 – 170 TPH
CLASSIFIER
18.5
24.8
TS-1517
SCRUBBER
18.5
24.8
TMS-1517
MULTI-STAGE
40
53.6
TC-1820
180 – 200 TPH
CLASSIFIER
37.5
50.2
TS-1820
SCRUBBER
37.5
50.2
TMS-1820
MULTI-STAGE
55
73.7
TC-3033
300 – 330 TPH
CLASSIFIER
37.5
50.2
TS-3033
SCRUBBER
37.5
50.2
TMS-3033
MULTI-STAGE
68
91.2
TC-4045
400 – 450 TPH
CLASIFIER
55
73.7
TS-4045
SCRUBBER
55
73.7
TMS-4045
MULTI-STAGE
79
105.9
TC-5055
500 – 550 TPH
CLASSIFIER
55
73.7
TS-5055
SCRUBBER
55
73.7
TMS-5055
MULTI-STAGE
90
120.6
TC-6065
600 – 650 TPH
CLASSIFIER
90
120.6
TS-6065
SCRUBBER
90
120.6
TMS-6065
MULTI-STAGE
200
268.2
All models are supplied with electric motors or diesel engines.  
Processing capacities may fluctuate in accordance to the type of ore, particle size, screen aperture, rotation speed and etc.
DOVE reserves the right to modify the specifications at anytime, without prior notice.
WARRANTY:
All DOVE equipment carry a standard Manufacturer's Warranty, which can be extended to 5 years, in addition to lifetime spare parts supply service.
DOVE provides full technical services worldwide, including plant engineering design, mining site construction design, site assembly, installation, test run and training.
MANUFACTURING FACILITIES:
DOVE Equipment & Machinery manufacturing facilities are located about 30 minutes drive from the company Head office in Bangkok, which includes 8 factories and showroom.
DOVE Equipment and Machinery with over 50 years manufacturing expertise, and the largest range of mining and minerals processing technologies is the recipient of ISO 9001: 2015, Green Industry Certification, and Golden Eagle of Asia Awards 2020 Best Business of the Year (DOVE Equipment and Machinery and DOVE Instruments), which insures highest quality and standard of our manufacturing and customer service practices.
Video DOVE Manufacturing Facilities:
MINERAL TEST SERVICES:
DOVE laboratory will assay your ore samples rapidly and analyze your raw materials and recommend the most efficient processing plant according to the ore specifications, minerals composition, and ore assay results, and your project size and the geologic and topographic conditions of your mine.
Please,  CONTACT US  for your sample analysis and quotation.
WE HIGHLY RECOMMEND FORWARDING SOIL SAMPLES OF YOUR MINE TO US FOR ANALYSIS, IN ORDER TO DESIGN AND RECOMMEND THE MOST EFFICIENT PROCESSING PLANT, TAILOR MAID TO YOUR MINE REQUIREMENTS, FOR HIGHEST PRODUCTION RECOVERY.