VBS® CONCENTRATORS
GRAVITY CONCENTRATORS, FINE RECOVERY CONCENTRATORS CAPACITY RANGE 2 TO 10 TONS/HOUR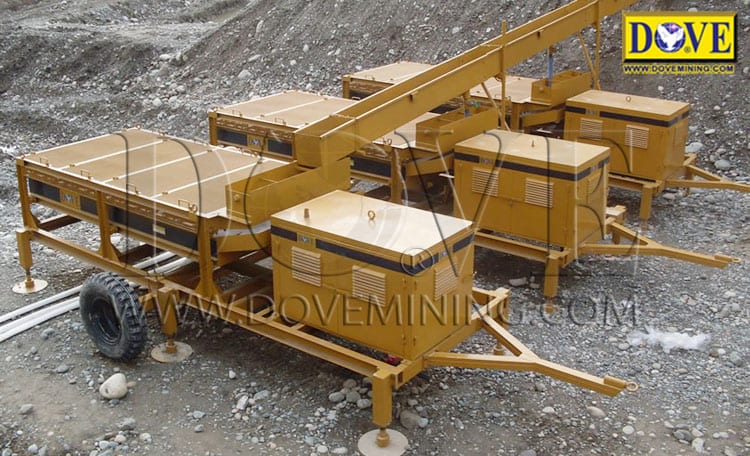 Innovative Technology & Ease of Operation
VBS® Concentrators are designed and patented by DOVE for simultaneous concentration and recovery of fine particle production of various metals and minerals. Designed for continuous operation during the whole shift operating hours, VBS® Concentrators do not require any frequent cleanups or operator interference and attention. VBS® Concentrators perform automatic recovery of fines down to 37 microns.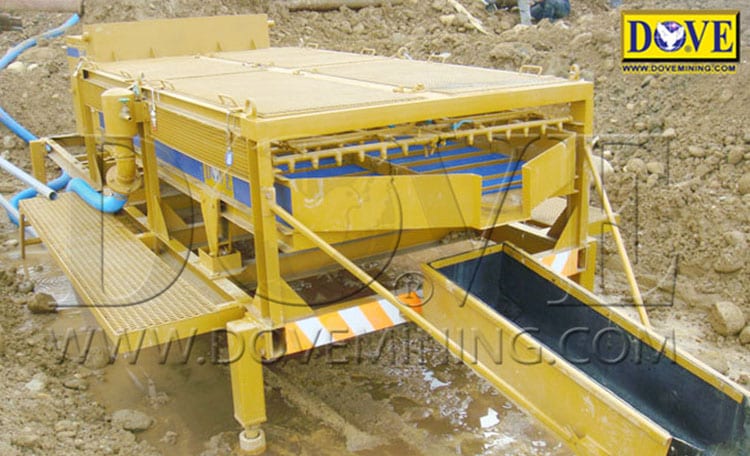 Secure Operation
Automatic operation features & security-lock mechanism minimizes operator interference and provides you the capability to keep your production safe in field condition.
VBS® Concentrators are metal & mineral concentration devices, specifically designed, patented and fabricated by DOVE, for washing, separation and concentration of fine metal & mineral production, based on its specific gravity.
VBS® Concentrators feature vibrating rectangular shape deck devices, designed with riffles and rubber carpeting to trap fine concentrates by means of specific gravity separation, running water and material flow.
VBS® Concentrators are effectively used for the following mining applications:
Washing, classification and concentration of fine metal and mineral production from the ores, where metal and mineral grains are liberated. Recovery of metals and minerals of various kinds that occur in Alluvial (Placer) deposits.
Recovery of Precious Metals, Precious and Semi-Precious Stones, Base Metals, Ferrous and Non-Ferrous Metals, Noble Metals, Heavy Metals.
Applicable for Dredging Operations for

 

river mining projects.
UNIQUE FEATURES
Feed Control Mechanism allows regulation of material flow, which results in even feed and distribution of the material.

Internal Hydraulic Spray-Bar-System allows you to regulate and control water pressure and flow, which effectively results in high recovery rates, and no material loss during the operation.

Speed Control allows regulation of vibration speed, which effectively results in possibility to adjust and tune VBS® Concentrators according to the capacity rate and material flow.

Equipped security covers and locking mechanisms, VBS® Concentrators provide you with safe operation at low supervision conditions, and prevent theft of the recovered production during the operating shift.

Optional drive system: operate with diesel engines or electric motors.

VBS® Concentrators are available in both stationary and portable configurations. Availability of wheel-set trailers provides you the ease of rapid transportation to almost any location.
MODEL

CAPACITY

POWER REQUIREENTS

SOLIDS

SLURRY

DIESEL DRIVE

ELECTRIC DRIVE

TPH

m3/HR

HP (kW)

HP (kW)

VBS®-50
2 – 4
6 – 12
7 (5.1)
5.5 (4)
VBS®-100
4 – 6
12 – 18
7 (5.1)
7.5 (5.5)
VBS®-200
6 – 8
18 – 24
8 (5.9)
7.5 (5.5)
VBS®-300
8 – 10
24 – 30
10.5 (7.72)
10 (7.5)
* DOVE reserves the right to modify the specifications at anytime, without prior notice.
All DOVE equipment carry a 2 years (24 months) standard Manufacturer Warranty, which can be extended to 5 years, in addition to lifetime spare parts supply service.
DOVE provides full technical services worldwide, including plant engineering design, mining site construction design, site assembly, installation, test run and training.
DOVE laboratory will assay your ore samples rapidly and analyze your raw materials and recommend the most efficient processing plant according to the ore specifications, minerals composition, and ore assay results, and your project size and the geologic and topographic conditions of your mine.
Please,  CONTACT US  for your sample analysis and quotation.
CONTACT NOW FOR BROCHURE & QUOTATION