DOVE Rod Mills are highly efficient grinding mills commonly used in minerals processing and particle size reduction through friction, attrition and compressive forces, designed to grind and blend various bulk material ranging from soft, fibrous to hard and brittle material. Mainly used in size reduction of Coal/ Coke, Feldspar, Quartz minerals, Tungsten Tin ore, production of Cement, Steel grit, Slag powder, Copper ore, Iron ore, Glass, Concrete aggregate, asphalt aggregate, Refractory, chemical industry.
DOVE Rod Mills are supplied in a wide range of capacities and specifications. DOVE supplies 2 models of small Rod Mills designed for laboratories milling process, capacity range of (5000g/Hr – 20 Kg/Hr). For small to large scale grinding operations, DOVE Rod Mills are supplied in 9 models, capacity range of (3 TPH – 180 TPH).
With over 50 years experience in Grinding Mill Machine fabrication, DOVE Rod Mills as critical component of DOVE Crushing and grinding plants, are designed with highest quality of material for long life and minimum maintenance, to grind ores to 0.5 mm and finer.
DOVE Supplies three types of Rod Mill with different discharge mechanism, Overflow Mill, End Peripheral Ore Discharge Mill, and Central Peripheral Ore Discharge Mill, designed for both dry and wet ore grinding applications.
DOVE Grinding Mills use high quality steel rods as media to perform uniform ore crushing and particle sizing. DOVE Rod Mills are highly practical replacement options for Cone Crushers. In certain applications, where ore is softer, and contain clay, with higher viscosity, using Cone Crusher results in high percentage of dust and also easy to cause the crusher to block. DOVE Rod Mill present an excellent replacement option, as it can grind the ore from 20-30 mm particle size to 6-10 mesh, results in reduce operating cost, faster processing time and fine dust removal.
DOVE Rod Mills are excellent option for Light Pulverization and Coarse Grinding applications. Highly recommended for Rare Earth metals ore and gravity separation plants, or magnetic separation plants of Tungsten and Tin ore, to prevent excessive Pulverization of valuable minerals.
DOVE Rod Mills are highly efficient and produce highest quantity of Uniform particle size, with lowest percentage of over crushed particles, meeting highest standards in the industry.
DOVE Mills, can grind ore selectively, with 50% increased grinding capacity. DOVE Rod Mill grinding material handling capacity is large, and continuous, the mill efficiency is high and the stability is strong, with fine and high uniformity particle size.
DOVE supplies steel rods hot rolled carbon steel, with 0.85-1.00% carbon and 1.00% Manganese, and as well as Rods with high quality aluminum alloy process, with excellent wear resistance and impact resistance, which results in lower loss and longer service life, in various diameters and lengths.
LABORATORY RANGE (TECHNICAL SPECIFICATIONS)
MODEL

CAPACITY

POWER (MOTOR)

HP

KW

RML-5000
5000 g/h
0.74
0.55
DGL-20
20 Kg/h
1.5
1.1
SMALL TO LARGE RANGE PROJECTS (TECHNICAL SPECIFICATIONS)
MODEL
CAPACITY
POWER (MOTOR)
TPH
HP
KW
RM-0306
O.65 -3
25
18.5
RM-0308
1 – 4
30
22
RM-0408
2 – 5
40
30
RM-0510
3 – 8
100
75
RM-0610
5 – 12
174
130
RM-0712
20 – 45
241
180
RM-0810
35 – 65
328
245
RM-0913
45 – 95
536
400
RM-1015
80 – 180
804
630
WARRANTY:
All DOVE equipment carry a standard Manufacturer's Warranty, which can be extended to 5 years, in addition to lifetime spare parts supply service.
DOVE provides full technical services worldwide, including plant engineering design, mining site construction design, site assembly, installation, test run and training.
MANUFACTURING FACILITIES:
DOVE Equipment & Machinery manufacturing facilities are located about 30 minutes drive from the company Head office in Bangkok, which includes 8 factories and showroom.
DOVE Equipment and Machinery with over 50 years manufacturing expertise, and the largest range of mining and minerals processing technologies is the recipient of ISO 9001: 2015, Green Industry Certification, and Golden Eagle of Asia Awards 2020 Best Business of the Year (DOVE Equipment and Machinery and DOVE Instruments), which insures highest quality and standard of our manufacturing and customer service practices.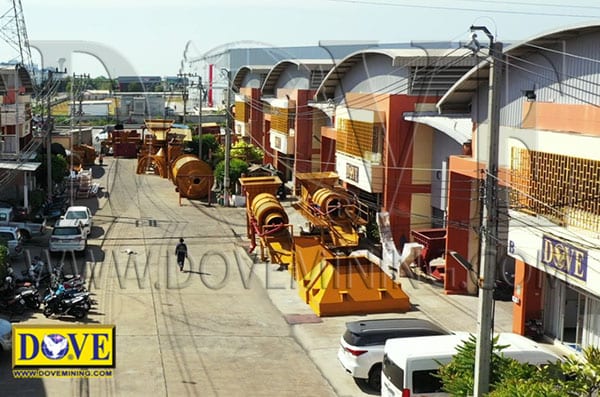 DOVE Manufacturing Facilities.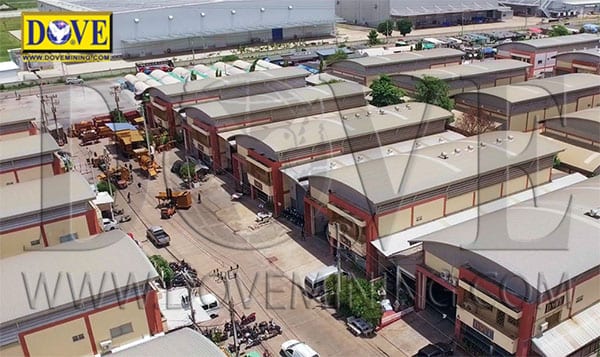 DOVE Equipment and Machinery 8 Factories.
Video DOVE Manufacturing Facilities:
MINERAL TEST SERVICES:
DOVE laboratory will assay your ore samples rapidly and analyze your raw materials and recommend the most efficient processing plant according to the ore specifications, minerals composition, and ore assay results, and your project size and the geologic and topographic conditions of your mine.
Please,  CONTACT US  for your sample analysis and quotation.
ROD MILL WORKING PRINCIPLE:
DOVE Rod Mill also referred to as steel rod mill shape is similar to DOVE Ball Mill, and is characterized by the use of steel Rods, instead of steel balls as grinding media. It is highly efficient grinding mill used as Dry Grinding Mill and Wet Grinding Mill.
DOVE Rod Mill consists of five major components, including cylinder shell, feeding system and Feeding Hopper, discharge system, main bearing gear drive mechanism and transmission system. It is widely used in Minerals mining, refractory, chemical industry, metallurgy, glass and other grinding industries with relatively high requirement on product uniformity, as well as cement and sand making industries.
DOVE Rod Mill working principle consists of the electric motor connected to the Gear drive mechanism and the reducer driving the Rod Mill Cylinder (Shell) to rotate. The grinding media consist of steel bars inside the Mill Shell (Cylinder), under the centrifugal force and friction force, will be elevated to a certain height with the Cylinder rotating at certain speed, and then fall on the Ore to be grind with a certain line speed, which has efficient grinding action on the Ore. This results in continuous and uniform particle size. The material to be milled will be fed continuously into the cylinder from the feed hopper of the Mill and continuously milled by steel rods grinding media, and then discharged finished material through the overflow to the next step of processing.
WE HIGHLY RECOMMEND FORWARDING SOIL SAMPLES OF YOUR MINE TO US FOR ANALYSIS, IN ORDER TO DESIGN AND RECOMMEND THE MOST EFFICIENT PROCESSING PLANT, TAILOR MAID TO YOUR MINE REQUIREMENTS, FOR HIGHEST PRODUCTION RECOVERY.